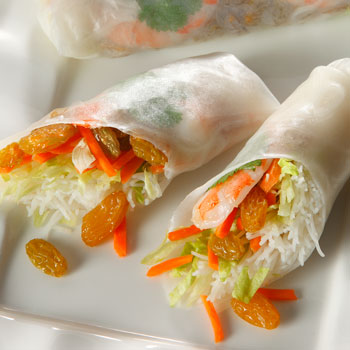 Vietnamese Summer Raisin Rolls
INGREDIENTS
Dipping sauce
2

teaspoons

sugar

1/8 cup

fish sauce

1 1/2 tablespoons

fresh lemon juice

1 1/2 tablespoons

rice wine vinegar

1

tablespoon

water

1 1/2 teaspoons

minced garlic

1

teaspoon

chilli sauce
Filling
1/2 cup

rice noodles

1/2 cup

shrimp

1/2 cup

golden rasins

1/2 cup

finely julienned carrots

1/4 teaspoon

kosher salt

4

teaspoons

iceberg lettuce chiffonade

3/4 teaspoon

sugar

1/8 cup

lemon juice
Sugar Water
1/2 cup

sugar

1/2 cup

warm water

7

rice paper wrappers

1/2 teaspoon

cilantro leaves
PROCEDURE
Posted
June 13, 2013 by Melinda
Servings
7
Ingredients
Dipping sauce
2

teaspoons

sugar

1/8 cup

fish sauce

1 1/2 tablespoons

fresh lemon juice

1 1/2 tablespoons

rice wine vinegar

1

tablespoon

water

1 1/2 teaspoons

minced garlic

1

teaspoon

chilli sauce
Filling
1/2 cup

rice noodles

1/2 cup

shrimp

1/2 cup

golden rasins

1/2 cup

finely julienned carrots

1/4 teaspoon

kosher salt

4

teaspoons

iceberg lettuce chiffonade

3/4 teaspoon

sugar

1/8 cup

lemon juice
Sugar Water
1/2 cup

sugar

1/2 cup

warm water

7

rice paper wrappers

1/2 teaspoon

cilantro leaves
Directions
Whisk  together the dipping sauce ingredients and refrigerate.  Cook the rice noodles in boiling water until they become a clear color.  Shock the noodles in cold water and drain.  Blanch the shrimp in boiling water until cooked, about three minutes. Shock, peel, and devein the shrimp.  Slice the shrimp in half lengthwise.  Toss the carrots with the salt and marinate for 10 minutes.  Rinse thoroughly and blot any excess moisture from the carrots.  Combine the noodles, carrots, lettuce, sugar, and lemon juice.
To assemble the summer rolls, combine the sugar and warm water in a large bowl.  Moisten 1 wrapper in the sugar water and place on a clean, flat-weave  cloth.  Place 2 1/2 oz of the noodle mixture, 2 shrimp halves, and a few cilantro leaves in the center of each wrapper.  Fold in each end of the wrapper and roll to completely encase the filling.  Regrigerate until needed.  For each portion, serve 1 cold summer roll with approximately 1 tablespoon dipping sauce.
This recipe is found in the following categories:
(No Ratings Yet)
Loading...
Comment on the Recipe
Comments may be moderated. If you don't see your comment, please be patient. It may be posted soon. Do not post your comment a second time. Thank you.