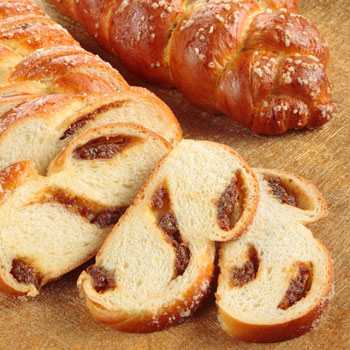 Raisin Stuffed Challah Bread
"A raisin stuffed version of a Challah Bread that I make for my niece Lainey. The raisin filling is piped into each braid, allowing the raisins to remain moist during the baking process."
FORMULA
Size: 8"L x 4"W x 3"H | # Loaves that can be made from 5 lbs flour: 12 loaves | Production Time: Approximately 7 hours | % of California Raisin Product to dry flour weight: 57%
PRE-FERMENT
MAIN DOUGH
TOTAL FORMULA
INGREDIENTS
American oz
Metric g/mL
Baker's %
American oz
Metric g/mL
Baker's g/mL
American oz
Metric g/mL
Baker's %
Bread Flour
33.62 oz
953 g
42.02%
46.39 oz
1315 g
57.98%
80.00 oz
2268 g
100.00%
Milk
21.83 oz
619 mL
27.29%
14.57 oz
413 mL
18.21%
36.40 oz
1032 mL
45.50%
Yeast (Instant)
0.20 oz
6 g
0.27%
0.46 oz
13 g
0.57%
1.95 oz
19 g
0.84%
Kosher Flake Salt
0.67 oz
19 g
0.84%
0.92 oz
26 g
1.15%
1.65 oz
45 g
1.98%
Egg
9.59 oz
272 g
12.00%
9.59 oz
272 g
12.00%
Sugar
9.59 oz
272 g
12.00%
9.59 oz
272 g
12.00%
Butter
7.20 oz
204 g
9.00%
7.20 oz
204 g
9.00%
California Golden Raisins
27.20 oz
771 g
34.00%
California Natural Raisins
15.20 oz
431 g
19.00%
Currants
3.75 oz
91 g
4.01%
Dates
2.40 oz
68 g
3.00%
Granny Smith Apples
8.00 oz
227 g
10.00%
Granulated Sugar
1.41 oz
40 g
1.76%
Orange Juice
9.20 oz
261 mL
11.50%
Lemon Juice
1.60 oz
45 mL
1.98%
Lemon Zest
0.13 oz
2 g
0.09%
Vanilla Extract
0.40 oz
11 mL
0.49%
Cinnamon
0.35 oz
10 g
0.44%
Ginger
0.21 oz
6 g
0.26%
Butter
0.60 oz
17 g
0.75%
TOTALS
2 lbs, 8.32 oz
1597 g
70.42%
5 lbs, 8.72 oz
2515 g
181.33%
13 lbs, 8.83 oz
6092 g
268.60%
PROCEDURE
STARTER
Pre-Ferment
Add flour, salt, yeast and water to mixer.
Mixing Time
Mix on Speed 1 for 2 minutes, and then Speed 2 for 2 minutes, or until mixture comes together.
Dough Temp
Ideal final dough temperature is 78oF
Fermentation Time
Allow to sit at room temperature for at least one hour covered and then refrigerate overnight.
Fermentation Temp
40oF (Refrigerator)
FINAL DOUGH
Mixing Time
Approximately 12 minutes, excluding 15 minutes autolyse rest period.
Mixing Speed
Speed 1 for 5 minutes, autolyse for 15 minutes covered, then speed 2 for 4 minutes, and then speed 2 for 3 minutes or until mixture is completely incorporated without exceeding a final dough temperature of 78oF
Dough Temp
Ideal dough temperature of 78oF
Fermentation Time
60 to 70 minutes, folding dough after the first 30 minutes
Fermentation Temp
82oF at 75% humidity
Dividing Weight
4 oz pieces of dough
Resting Time
No Rest
Make Up
Shape dough into rectangles approximately 12″ long x 2″ wide, pipe the raisin-apple filling along the top length of the dough rectangle, wrap dough over filling making sure to seal edges, braid and egg wash.
Proofing Time
Approximately 70 minutes
Proofing Temp
82oF
Proofing Humidity
75% Humidity
Type of Oven
Rotating Rack Oven
Baking Temp
350oF initial oven temperature, then drop to 325oF
Steam if Needed
6-8 seconds
Finished Product Weight
Approximately 16 oz including filling
Additional Notes

After final proof, remove braided dough from proofer, egg wash, sprinkle with pearl sugar and allow egg wash to dry for approximately 10 minutes prior to placing in oven.
Using piping tip 807 for raisin-apple filling.

FillingPeel, core and slice Granny Smith apples. In the bottom of a large pot, heat butter and sauté apples until soft. Soak raisins, dates and currants in orange juice for one hour prior to adding to heated apples. After adding raisins to the apple mixture, add sugar, lemon juice, lemon zest, vanilla and spices and cook until entire mixture is soft and most of the liquid has evaporated. Remove from heat and cool in a shallow pan and refrigerate. Place cooled raisin-apple mixture in food processor and puree until mixture has reached a smooth paste consistency. Fill piping bag and refrigerate until needed.
This recipe is found in the following categories:
(No Ratings Yet)
Loading...
Comment on the Recipe
Comments may be moderated. If you don't see your comment, please be patient. It may be posted soon. Do not post your comment a second time. Thank you.