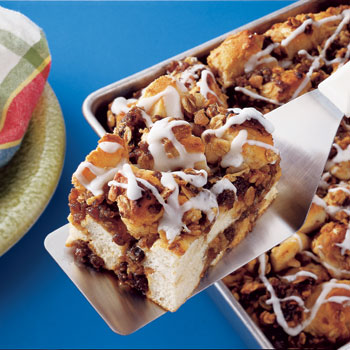 Quick Bubble Bread
Yields 18 x 26 x 2-inch pan or 80 servings at 2-1/2 x 2-1/4 x 1-3/4 inches
Details
INGREDIENTS
12

cups

California raisins

2

cups

unsweetened applesauce

8

cups

quick oatmeal

3

cups

all-purpose flour

2

cups

brown sugar

1

cup

non-fat milk powder

1

cup

margarine, softened

1/4 cup

ground cinnamon

16

cans (

10

count each) refrigerated biscuits

Powdered sugar icing (optional)
PROCEDURE
Posted
August 11, 2011 by Melinda
Servings
80
Ingredients
12

cups

California raisins

2

cups

unsweetened applesauce

8

cups

quick oatmeal

3

cups

all-purpose flour

2

cups

brown sugar

1

cup

non-fat milk powder

1

cup

margarine, softened

1/4 cup

ground cinnamon

16

cans (

10

count each) refrigerated biscuits

Powdered sugar icing (optional)
Directions
1. Process raisins with 1/4 cup applesauce until raisins are thoroughly chopped but not puréed.
2. In a large mixer bowl with paddle, combine oatmeal, flour, brown sugar, dry milk, margarine and cinnamon; mix until crumbly.
3. Add raisin mixture and remaining applesauce; toss to combine but do not mix to a dough consistency.
4. With a pizza cutter, cut biscuits into quarters.
5. Add quartered biscuits to mixture; toss to coat.
6. Spread evenly in greased pan.
7. Bake in a conventional oven at 375ºF for 25 to 35 minutes or until golden brown.
8. Drizzle with powdered sugar icing.
9. Cut into 10 rows along the long side of the pan and 8 rows along the short side.
Nutrition Facts Per Serving
Calories 350 (31% from fat); Total Fat 12g (sat 3g, mono 1g, poly 2g, trans 0g ); Cholesterol 0mg; Protein 6g; Carbohydrate 56g; (Dietary Fiber 3g; Sugars 26g; ); Iron 3mg; Sodium 630mg; Calcium 52mg; Potassium 243mg
This recipe is found in the following categories:
(No Ratings Yet)
Loading...
Comment on the Recipe
Comments may be moderated. If you don't see your comment, please be patient. It may be posted soon. Do not post your comment a second time. Thank you.