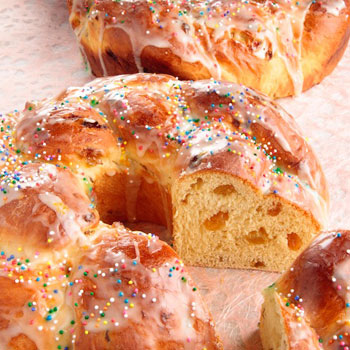 Nonni's Golden Raisin Sweet Bread
My Italian Grandmother, Nonni, made this bread when I was a child. It's my children's favorite. I have "tweaked" the recipe over the years and added Golden California Raisins for a twist. It is made especially for Easter and it's gone in 60 seconds.
FORMULA
Size: 9"W x 2.5"H Round Braid | Production Time: 4-5 hours | # Loaves that can be made from 5 lbs flour: 5 | % of California Raisin product to dry flour weight: 50%
INGREDIENTS
American
Metric
Yield
Baker's
Pre-Fermented Ingredients
Water, warm (95oF)
10 oz
283 g
5.4%
 12.55
Flour, all purpose
6.3 oz
177 g
3.4%
 7.9%
Instant Yeast
1.3 oz
35 g
0.7%
 1.6%
Sugar, granulated
0.3 oz
7 g
0.2%
 0.4%
Total
17.9 oz
502 g
9.7%
 22.4%
Final Dough Ingredients  
Flour, all purpose
73.7 oz
2092.2 g
39.6%
 92.1%
California Golden Raisins
30 oz
850.5 g
16.1%
 37.5%
Milk, 1%
20.5 oz
581.2 g
11%
 25.6%
Eggs, large
18.3 oz
518.8 g
9.7%
 22.9%
Golden Raisin Paste
10 oz
283.5 g
5.4%
 12.5%
Sugar, granulated
7 oz
198.4 g
3.78%
 8.8%
Butter, salted
5 oz
141.7 g
2.7%
 6.3%
Orange juice
2 oz
57 g
1.1%
 2.5%
Salt
0.5 oz
14.2 g
0.3%
 0.6%
Orange Zest
0.5 oz
14.2 g
0.3%
 0.6%
Vanilla
0.3 oz
8.5 g
0.2%
 0.4%
Lemon Juice
0.3 oz
8.5 g
0.2%
 0.4%
Total
168.1 oz
4768.7 g
90.5%
 207.7%
Icing Ingredients  
Sugar, confectioners
12 oz
Orange Juice
3 oz
PROCEDURE
Pre-Ferment
Mixing Time
Mix just until smooth
Dough Temp
85oF
Fermentation Time
10-15 minutes until doubled
Fermentation Temp
80oF
Procedure
Mix pre-ferment ingredients until smooth. In a 6-cup glass measure, cover with plastic wrap and towel. Let rest for 10-15 minutes until doubled and bubbly.
Final Dough
Procedure
Heat 2 oz orange juice and pour over raisins. Let stand until absorbed, stirring occasionally.Scald milk. Pour into large mixing bowl and add butter and Golden Raisin Paste. Stir until dissolved. Add sugar, salt, vanilla, beaten eggs, lemon juice and orange zest. When mixture is lukewarm, add preferment and stir until combined. With paddle attachment, add flour 1 pound at a time. Add Golden Raisins with 4th pound of flour. Add remaining flour until dough comes cleanly away from sides of bowl. Turn dough out onto a lightly floured survace and knead gently until dough is soft but not sticky. Place in oiled bowl, cover with plastic wrap and a clean towel. Allow to rise in a warm place (100oF) until doubled. Line 5 tube pans with parchment paper. Spray with non-stick spray. Punch down dough and let rest for 10 minutes. Cut into 5 pieces (2 lbs, 4 oz each). Take each 2# 4 oz piece and cut into 3 equal pieces. Braid and place in a parchment lined tube pan pinching the ends together. Let rise until doubled in size for approximately 40-60 minutes. Brush with egg wash. Bake at 350oF in a convection oven until golden brown 20-25 minutes. Internal temperature of bread should be 175-180oF.

Mix icing ingredients together until thinck and smooth. Frost bread and sprinkle with nonpareils.

Serve with Orange Butter. Orange Butter: Mix together 1/2 cup softened butter, 1 Tbsp. powdered sugar, and 1 tsp orange zest.

Day-old bread is great toasted. Tt also makes excellent bread pudding.
This recipe is found in the following categories:
(No Ratings Yet)
Loading...
Comment on the Recipe
Comments may be moderated. If you don't see your comment, please be patient. It may be posted soon. Do not post your comment a second time. Thank you.