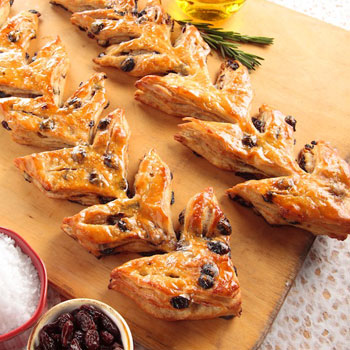 Laminated Rosemary Raisin Epi
Submitted by:
Morgan Choi - The French Pastry School - Chicago, IL
"I love sharing hot bread with family around the dinner table. I wanted to create something savory that would combine the chewiness of a baguette with the flakiness of a croissant. Raisins have a wonderful sweetness that pairs well with olive oil, salt and rosemary."
FORMULA
Size: 18"L x 4"W x 1"H | Production Time: 5 hours | # Loaves that can be made from 5 lbs flour: 10 | % of California Raisin product to dry flour weight: 50%
INGREDIENTS
American
Metric
Yield
Baker's
Pre-Fermented Ingredients
Bread Flour
11 oz
312.5 g
61.7%
100%
Water
6.8 oz
193.8 g
38.3 %
62%
Dry Instant Yeast
0.008 oz
0.25 g
0.0%
0.08%
Total
1 lb, 1.8 oz
506.6 g
100%
162.08%
Final Dough Ingredients
Bread Flour
2 lbs, 1.1 oz
937.5 g
30.4%
100%
Water
1 lb, 7.1 oz
656.25 g
21.3%
70%
California Raisins
1 lb, 6 oz
625 g
20.3%
66.7%
Sponge
1 lb, 1.8 oz
506.25 g
16.4%
54%
Butter, for lamination
11.3 oz
320.5 g
10.4%
34.2%
Sea Salt, crushed fine
0.9 oz
25 g
0.8%
2.7%
Malt Powder
0.2 oz
6.25 g
0.2%
0.7%
Dry Instant Yeast
0.2 oz
6 g
0.2%
0.6%
Fresh Rosemary, finely chopped
0.07 oz
2 g
0.0%
0.2%
Total
6 lb, 12.7 oz
3084.75 g
100%
329.1%
PROCEDURE
Pre-Ferment
Mixing Time
Just until all ingredients combined
Dough Temp
72oF
Fermentation Time & Temp
16 hours, room temp approx. 70oF
Final Dough
Mixing Time & Speed
6 minutes on 1st speed, 2 minutes on 2nd speed, then add raisins until just incorporated.
Dough Temp
72oF
Fermentation Time
1 hour
Fermentation Temp
Room temp, approx. 70oF
Folding if Needed
None
Dividing Weight
475 g, but long strips of dough (17″ x 3″), place on parchment
Resting Time
None
Butter Preparation
Combine butter and finely chopped fresh Rosemary. Shape into 8″ x 10″ rectangle.
Make Up
Roll dough out to approx 10″ x 16″ rectangle and freeze until dough is cool. Laminate the doughwith soft butter book, one single turn, one double turn. Freeze the dough for 10-15 minutes if dough becomes too warm. The finished thickness should be 9mm.
Epi Shape**
Make 2″ diagonal cuts on both sides of the dough. The cut lengths should extend just past the center of the dough and alternate sides. Gently pull each leaf away from the center to create the epi shape. Score the center of each leaf.
Proofing Time
20-35 minutes, egg wash after proofing
Proofing Temp
78oF
Proofing Humidity
80%
Type of Oven
Deck
Baking Temp
380oF
Baking Time
28-30 minutes, or until golden brown; bake on parchment
Steam if Needed
2-3 seconds
Finished Product Weight
435 g
**After Baking: Immediately brush with olive oil and sprinkle with sea salt.
This recipe is found in the following categories:
(No Ratings Yet)
Loading...
Comment on the Recipe
Comments may be moderated. If you don't see your comment, please be patient. It may be posted soon. Do not post your comment a second time. Thank you.