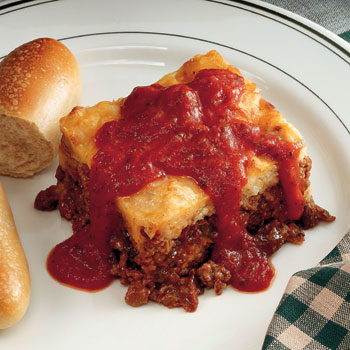 Italian Squares
Yields 18 x 26 x 2-inch pan or 80 servings at 2-1/2 x 2-1/4 x 1-3/4 inches
Details
INGREDIENTS
13

pounds

ground beef

8

cups

chopped onions

10

cups

California raisins

4

cups

Tomato Sauce

1/3 cup

vinegar

1/2 cup

dried oregano leaves

1/4 cup

dried basil leaves

3

tablespoons

garlic powder

2

teaspoons

black pepper
Topping
9

cups

milk

6

cups

biscuit mix

4

cups

liquid eggs

8

cups

shredded cheese

Spaghetti sauce or pizza sauce (optional)
PROCEDURE
Posted
August 11, 2011 by Melinda
Servings
80
Ingredients
13

pounds

ground beef

8

cups

chopped onions

10

cups

California raisins

4

cups

Tomato Sauce

1/3 cup

vinegar

1/2 cup

dried oregano leaves

1/4 cup

dried basil leaves

3

tablespoons

garlic powder

2

teaspoons

black pepper
Topping
9

cups

milk

6

cups

biscuit mix

4

cups

liquid eggs

8

cups

shredded cheese

Spaghetti sauce or pizza sauce (optional)
Directions
1. Cook ground beef and onions together until ground beef is no longer pink; drain.
2. Process raisins with 1 cup tomato sauce until smooth paste is formed.
3. Combine meat mixture, raisin paste, remaining tomato sauce, vinegar and seasonings; stir to blend.
4. Simmer, stirring occasionally, about 20 minutes or until heated through.
5. Spread evenly in ungreased pan. Do not pack down.
6. Combine topping ingredients; mix well.
7. Pour gently over meat mixture to avoid splashing.
8. With a spatula, slowly cut through the meat across the pan a few times; do not stir the topping into the meat mixture.
9. Bake in a conventional oven at 350ºF for 55 to 65 minutes or until topping is set.
10. Remove from oven and sprinkle shredded cheese evenly over the top.
11. Bake 4 to 5 minutes more or until cheese is melted.
12. Cut into 10 rows along the long side of the pan and 8 rows along the short side.
13. Serve with pizza or spaghetti sauce.
Notes:
1. Meat filling may be made and set into pans the day before; reheat to 165ºF  before adding the topping; complete as directed above.
2. Use a blend of American and Mozzarella cheeses.
Nutrition Facts Per Serving
Calories 270 (27% from fat); Total Fat 8g (sat 3g, mono 3g, poly 0g, trans 0g ); Cholesterol 70mg; Protein 24g; Carbohydrate 26g; (Dietary Fiber 3g; Sugars 17g; ); Iron 3mg; Sodium 300mg; Calcium 235mg; Potassium 561mg
This recipe is found in the following categories:
(No Ratings Yet)
Loading...
Comment on the Recipe
Comments may be moderated. If you don't see your comment, please be patient. It may be posted soon. Do not post your comment a second time. Thank you.