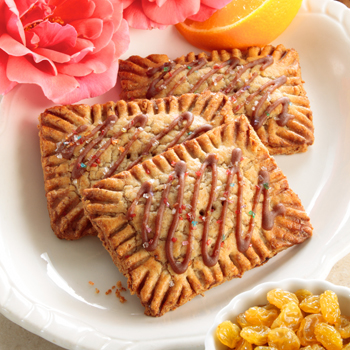 Gluten-Free Pocket Tart
Submitted by:
Craig Ponsford - Ponsford's Place - San Rafael, CA
FORMULA
Filling
Icing
Total Formula
Metric/g
Bakers %
Metric/g
Bakers %
Metric/g
Bakers %
Sweet Rice Flour, Fine
1.846
30.00
Almond Meal
0.791
30.00
Sorghum
1.978
40.00
 Butter, unsalted
0.053
65.00
 Coconut Sugar
0.068
85.00
0.013
5.00
 Ice water
0.079
25.00
 Salt
0.105
2.00
 Lemon Juice
0.079
1.00
 Apples
0.280
28.00
 Oranges
0.280
28.00
 Golden Raisins
0.280
28.00
 Golden Raisin Paste
0.120
12.00
 Fresh Ginger
0.020
2.00
 Cardamom
0.002
0.20
 Vanilla
0.010
1.00
 Salt
0.008
0.80
 Raisin Juice Concentrate
0.008
10.00
 Water
0.004
5.00
 Totals
1.00
100.00
0.080
100.00
4.944
PROCEDURE
Posted
June 29, 2012 by Gary
Servings
Ingredients
Directions
Filling
Peel, core and chop apples into 1″ chunks.
Cut oranges into 1″ chunks and remove seeds.
Combine apples, oranges, raisins and raisin paste and run through a food grinder with a medium-fine blade attachment (or food processor, one fruit at a time, pulsing to desired consistency).
Mix in cardamom, salt and vanilla.
Dough
Cut butter into 1″ cubes and chill well. Briefly mix flours, sugar and  salt in a spiral mixer.
Add butter and mix on low for 2 minutes until butter has broken into pea-sized pieces
Add chilled water, lemon juice and applesauce. Mix until shaggy, press together and flatten into a rectangle.
Chill for one hour, roll out and fold, repeating several times until dough becomes cohesive and can be rolled to 1/4″.
Chill again and cut into rectangles 2 1/2″ x 3 1/2″.
Egg wash and top with 20 g of filling, lay a second dough on top, use a fork to seal edges and dock to vent while baking.
Baking
Egg wash and bake at 350˚F for 20 minutes.
Let cool completely before decorating.
Icing
Pour coconut sugar, raisin juice concentrate and water into a planetary mixer fitted with a whisk and whip until smooth and light.
Pipe or drizzle on cooled tarts and decorate with sprinkles or candied orange zest.
This recipe is found in the following categories:
Special Diet
(No Ratings Yet)
Loading...
One Response
Comment on the Recipe
Comments may be moderated. If you don't see your comment, please be patient. It may be posted soon. Do not post your comment a second time. Thank you.