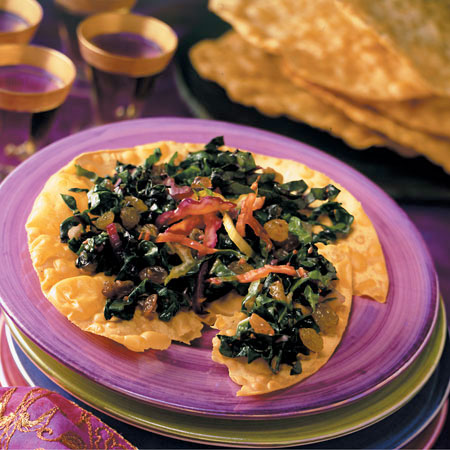 Garlic-California Raisin Wilted Greens on Pappadum (Saag Pappadum)
California golden raisins and greens top a wafer-thin Indian flat bread.
INGREDIENTS
4

ounce

spinach leaves

8

ounce

Swiss chard

1

cup

California golden raisins

2

tablespoons

clarified butter or vegetable oil

10

medium garlic cloves, minced

1

teaspoon

garam masala

1

teaspoon

salt

1/2 teaspoon

ground cayenne pepper

6

pappadums
PROCEDURE
Stack spinach leaves and cut into thin ribbons; set aside. Cut Swiss chard stems and leaves into thin ribbons; reserve 1/2 cup for garnish. Add remaining stems and leaves to spinach.
In wok or deep 12-inch skillet, heat butter over medium-high heat. Add garlic and California golden raisins; stir-fry 2 to 3 minutes or until garlic turns brown and California golden raisins plump slightly. Add mixed greens and stir-fry 4 to 5 minutes, or until water from wilted greens evaporates. Stir in garam masala, salt and pepper. Remove from heat. Divide into 6 equal parts; set aside.
Cook pappadums according to package instructions.
To Assemble
On individual serving plate, arrange pappadum. Spread with one part of stir-fried greens and garnish with reserved Swiss chard. Serve immediately.
Notes:Clarified butter (ghee) is widely available in natural food stores and other specialty stores. You can also make your own by melting unsalted butter over low heat and skimming off all milk solids. The residual clear butter is nutty and sweet, a flavor highly prized in Indian cuisine.
Garam masala is a combination of spices, used primarily in northern Indian kitchens, often containing cumin, cloves, cinnamon, cardamom, and peppercorns. These spices are roasted and ground and the blend is used as a finishing spice. Commercially prepared blends are widely available in supermarkets.
Pappadums are lentil wafers found in supermarkets, natural food stores and other specialty stores. They are available in many flavors and can be broiled, baked, fried, flame roasted, or cooked in a microwave. Follow package instructions. If pappadums are unavailable, grill 1/2-inch-thick slices of French bread to yield crispy crostini (3 slices per person).
Nutrition Facts Per Serving
Calories 220 (31% from fat); Total Fat 8g (sat 3g, mono 2g, poly 2g, trans 0g ); Cholesterol 10mg; Protein 6g; Carbohydrate 34g; (Dietary Fiber 6g; Sugars 21g; ); Iron 4mg; Sodium 530mg; Calcium 72mg; Potassium 630mg
This recipe is found in the following categories:
Special Diet
World Flavors
(No Ratings Yet)
Loading...
Comment on the Recipe
Comments may be moderated. If you don't see your comment, please be patient. It may be posted soon. Do not post your comment a second time. Thank you.