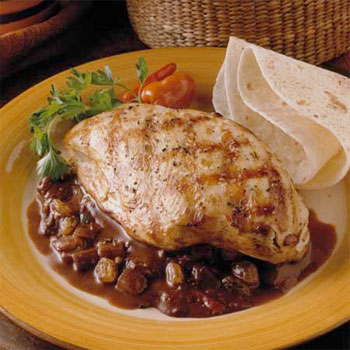 Chicken with California Raisin Mole
Cocoa powder and peanut butter make a traditional Mexican hot sauce the perfect accompaniment for grilled chicken breasts.
Details
Serving Size: 1 breast and 1/4 cup sauce
INGREDIENTS
California Raisin Mole
1

cup

California raisins, divided

Non-stick cooking spray

1 1/2 teaspoons

vegetable oil

1/2 cup

minced red onions

1/2 teaspoon

coriander seeds, crushed

1/2 teaspoon

anise seeds, crushed

1 1/2 teaspoons

chilli powder

1/2 teaspoon

sugar

1/2 teaspoon

cinnamon

1 1/2 teaspoons

minced garlic

1/4 teaspoon

ground cloves

1

teaspoon

unsweetened cocoa powder

1

tablespoon

peanut butter

1/3 cup

chicken broth

Scant 1/2 cup (3 ounces) diced fresh tomatoes

Salt; to taste

6

boneless, skinless chicken breasts (about 4 ounces each)

Salt and pepper; to taste
PROCEDURE
Mole
Lightly coat the bowl and blade of a food processor with non-stick cooking spray and purée 3/4 cup of the raisins to yield 1/4 cup of raisin paste*. (The paste will be very sticky). Set aside.
In a large, heavy skillet, heat the oil over high heat; add the onion and sauté, stirring frequently until golden brown. Stir in the crushed coriander and anise seeds. Then add the chilli powder, sugar, cinnamon, garlic and cloves; cook the mixture for 1 minute over moderate heat, stirring constantly. Add the cocoa powder, peanut butter, chicken broth, tomatoes, raisin paste, reserved raisins and salt; simmer uncovered, stirring occasionally for about 10 minutes or until the sauce is slightly thickened and bubbly.
To Serve
Season chicken breasts with salt and pepper. Grill or broil the chicken until cooked through. Place each breast on a serving plate and surround with about 1/4 cup of sauce. Serve with warm tortillas.
Note: Commercially prepared California raisin paste is available from foodservice and industrial suppliers. To make your own raisin paste, grind or process in a food processor whole California raisins equal to twice the amount of raisin paste required (3/4 cup natural raisins) until very finely chopped and smooth.
Nutrition Facts Per Serving
Calories 250 (16% from fat); Total Fat 4.5g (sat 1g, mono 2g, poly 1g, trans 0g ); Cholesterol 65mg; Protein 28g; Carbohydrate 25g; (Dietary Fiber 3g; Sugars 20g; ); Iron 2mg; Sodium 105mg; Calcium 35mg; Potassium 585mg
This recipe is found in the following categories:
Special Diet
World Flavors
(No Ratings Yet)
Loading...
Comment on the Recipe
Comments may be moderated. If you don't see your comment, please be patient. It may be posted soon. Do not post your comment a second time. Thank you.