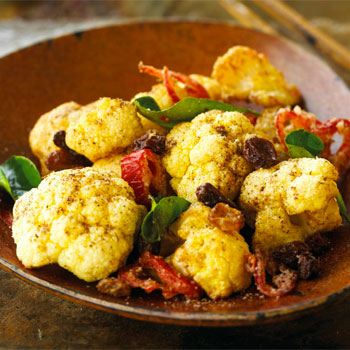 Cauliflower with Tribal Salt and California Raisins
Submitted by:
Alex Ong
Oriental-style seasoning salt compliments lightly fried cauliflower and raisins perfectly.
INGREDIENTS
1

tablespoon

curry powder

1

tablespoon

ground turmeric

1

tablespoon

ground cumin

1 1/2 teaspoons

ground white pepper

1

cup

vegetable oil

1

head cauliflower

3

quarts

vegetable oil; for frying

2

cups

(about 8 ounces) cornstarch

1/4 cup

California golden raisins

1/4 cup

California natural raisins

3

rings cut from red Fresno chile

16

curry leaves

Tribal Salt, to taste
PROCEDURE
In large bowl, stir curry powder, turmeric, cumin and white pepper together with 1 cup oil to mix well. Divide cauliflower into individual florets; add to bowl and toss to coat well. Let stand for at least 2 hours.
Heat oil for frying to 350°F. Drain cauliflower florets and dredge in cornstarch along with raisins and chile rings. Arrange in basket and fry at 350°F until golden brown, adding curry leaves just before done. Drain well and season to taste with Tribal Salt.
Notes:
1. For 1/2 cup Tribal Salt, combine 1/2 cup kosher salt with 1/2 tablespoon Szechuan peppercorns, toasted and crushed, and 1/4 teaspoon five-spice powder. Will keep in cool, dry place for up to a month.
2. Nutrition per serving does not include oil for frying.
Nutrition Facts Per Serving
Calories 430 (58% from fat); Total Fat 28g (sat 2g, mono 16g, poly 8g, trans 0g ); Cholesterol 0mg; Protein 2g; Carbohydrate 43g; (Dietary Fiber 3g; Sugars 8g; ); Iron 2mg; Sodium 30mg; Calcium 34mg; Potassium 340mg
This recipe is found in the following categories:
World Flavors
(No Ratings Yet)
Loading...
Comments are closed.