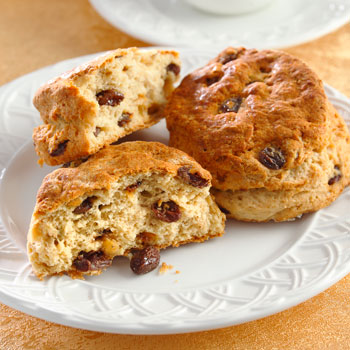 Buttermilk Biscuits with Earl Grey Soaked California Raisins
Submitted by:
Brandi Evans, www.branappetit.com
A perfect way to start your Saturday or Sunday morning with delectable raisins and Earl Grey tea.
INGREDIENTS
1/2 cup

California raisins

3/4 cup

hot Earl Grey Lavender tea

or regular Earl Grey tea
2 3/4 cups

All purpose flour

1/4 cup

Brown sugar

1 1/2 tablespoons

Baking powder

1 teaspoon

salt

12

tablespoons

Butter

chilled and sliced or diced

2

Eggs

2/3 cup

Buttermilk
PROCEDURE
Preheat oven to 425°.  Line a baking sheet with parchment paper or set out a baking stone; set aside.  Steep the Earl Grey tea and pour the hot tea over the raisins in a heat proof bowl.  Let the raisins soak in the tea while the oven preheats.  Then, in a large bowl, mix the flour, sugar, baking powder, and salt.  Cut the butter into the dry ingredients until mixture  resembles coarse meal using a pastry cutter, two forks, or your hands.
In another bowl, beat the eggs with the buttermilk.  Make a well in the dry ingredients, and pour in the buttermilk mix.  Use a fork to gently pull the sides of the dry ingredients down into the buttermilk and keep stirring gently, until the flour is incorporated.  Scoop the raisins out of the tea, but reserve the tea.  Fold the raisins into the biscuit dough.  Dough will be shaggy, sticky, and may not hold together perfectly right now which is ok.
Turn out onto a floured pastry cloth or counter top and knead, gently, about 5-10 times, until the dough is no longer sticky and it is holding together.  Roll or pat out into a 1-inch thickness.  Cut into rounds with a biscuit cutter.  Place on your baking stone or baking sheet.  In a small bowl, mix 2 Tbsp. of buttermilk with 2 Tbsp. of the leftover tea.  Brush the tea and buttermilk mixture over the tops of the biscuits.  Bake at 425° for 14- 16 minutes until golden.
This recipe is found in the following categories:
(No Ratings Yet)
Loading...
One Response
Comment on the Recipe
Comments may be moderated. If you don't see your comment, please be patient. It may be posted soon. Do not post your comment a second time. Thank you.