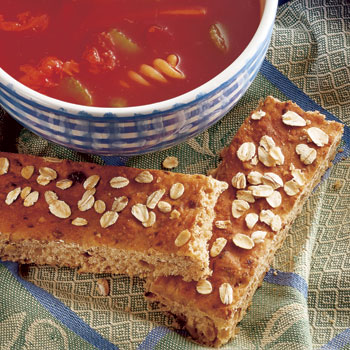 Breadsticks
Yields 18 x 26 x 1-inch pan or 36 (2 oz.) servings at 8 x 1-1/2 inches or 72 (1 oz.)
Details
INGREDIENTS
2

cups

California raisins

1/4 cup

unsweetened applesauce

2 1/2 cups

water

2/3 cup

oil

6

cups

all-purpose flour

1 1/2 cups

whole wheat flour

1 1/2 cups

oatmeal

1/4 cup

+ 2 tablespoons sugar

1/2 cup

non-fat milk powder

1

ounce

instant active dry yeast

1

tablespoon

salt
Toppings (optional)
Sunflower seeds

Sesame seeds

Oatmeal
PROCEDURE
Posted
August 11, 2011 by Melinda
Servings
36
Ingredients
2

cups

California raisins

1/4 cup

unsweetened applesauce

2 1/2 cups

water

2/3 cup

oil

6

cups

all-purpose flour

1 1/2 cups

whole wheat flour

1 1/2 cups

oatmeal

1/4 cup

+ 2 tablespoons sugar

1/2 cup

non-fat milk powder

1

ounce

instant active dry yeast

1

tablespoon

salt
Toppings (optional)
Sunflower seeds

Sesame seeds

Oatmeal
Directions
1. Process raisins with applesauce until a smooth paste is formed.
2. In a large mixer with a paddle or dough hook, combine raisin paste, water and oil; mix well.
3. Using a dough hook, add the rest of these ingredients; mix until dough is fully developed (soft and elastic).
4. Allow dough to rest until it stretches easily.
5. Stretch dough and flatten it in a greased pan.
6. Allow dough to rise until it is double in height.
7. Score the pan into the number of servings you want. To get 36 servings, cut 3 rows along the long side of the pan and 12 rows along the short side. For 72 servings, cut 6 rows along the long side and 12 rows along the short side.
8. Sprinkle the topping of your choice over the dough.
9. Bake in a conventional oven at 350ºF for 20 to 25 minutes or until bread is lightly brown and springs back when touched in the middle.
10. To serve, lightly cut along scoring.
Tip: Dust pan with cornmeal to help breadsticks slide out of pan easily. Brush top of dough with a little water to help the topping adhere. A sheet-roller will speed production time.
If you expand this recipe to several pans, place about 5-1/2 lbs. dough in each pan. Additional raisins may be added to make raisin bread sticks.
Nutrition Facts Per Serving
Calories 180 (23% from fat); Total Fat 4.5g (sat 0g, mono 2.5g, poly 1g, trans 0g ); Cholesterol 0mg; Protein 4g; Carbohydrate 31g; (Dietary Fiber 2g; Sugars 9g; ); Iron 2mg; Sodium 200mg; Calcium 16mg; Potassium 148mg
This recipe is found in the following categories:
(No Ratings Yet)
Loading...
Comment on the Recipe
Comments may be moderated. If you don't see your comment, please be patient. It may be posted soon. Do not post your comment a second time. Thank you.