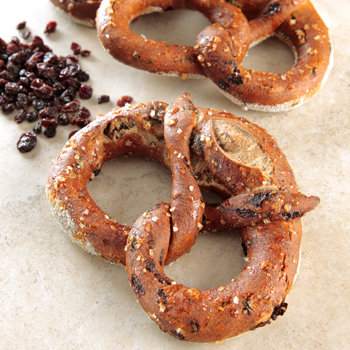 Barley-Currant Pretzel
Submitted by:
Craig Ponsford - Ponsford's Place - San Rafael, CA
FORMULA
Biga
Final Dough
Total Formula
Metric/kg
Bakers %
Metric/kg
Metric/kg
Bakers %
Hard Red Winter Wheat Flour
0.7912
100.00
1.055
1.846
70.00
Barley Flour
0.791
0.791
30.00
Water
0.5143
65.00
1.464
1.978
75.00
Salt
0.0008
0.10
0.052
0.053
2.00
Instant Yeast
0.0002
0.03
0.013
0.013
0.50
Butter, unsalted
0.079
0.079
3.00
Raisin Juice Concentrate
0.105
0.105
4.00
Powdered Milk
0.079
0.079
3.00
Maceration Liquid
0.396
15.00
Zante Currants
0.659
25.00
Zante Currants (Macerated)
1.055
Biga
1.307
Totals
1.3065
169.00
6.000
6.000
227.50
PROCEDURE
Posted
July 5, 2012 by Gary
Servings
Ingredients
Directions
12 hours before final mixing, mix the sponge ingredients until a cohesive dough is formed. Move to a covered container and let rise for 12 hours at 75˚F.
Also 12 hours in advance, macerate currants in water*, just to cover. Drain well prior to mixing (ideal macerated weight is reflected in the formula).
Final dough
Mix flours, salt, yeast, powdered milk, water and raisin juice concentrate in a spiral mixer on low for 3 minutes.
Add biga and mix for 3 minutes, on 2nd speed.
Add butter and mix for 1 minute, on 2nd speed.
Add currants and mix to disperse evenly on low speed.
Shaping and proofing

Let dough ferment for two hours in a covered container with a fold after the first hour.
Turn out dough after the second hour and divide into 150 g pieces. Flatten dough pieces into rectangles and premold tight 5″ cylinders.
Let rest for 20 minutes, roll into tapered strands roughly 24″ long. Grabbing each end, pick up and twist 360°, set the ends down over the ring of dough, pressing them into the opposite side, to make the pretzel.
Lay gently on a lightly floured board. Freeze or chill until an hour before use, then pull and bring to room temperature.
Lye Bath

Make a 4% lye solution and bring to a boil (use caution as Lye is a corrosive chemical). Breifly submerge each pretzel in the bath, drain well and transfer to a sheet pan, sprinkle with sugar crystals or sesame seeds.
Baking
Bake at 380° F on low convection for 8-12 minutes, cool on rack.
* To add character, consider accenting with a dash of whiskey, medeira or barley wine.
This recipe is found in the following categories:
(No Ratings Yet)
Loading...
Comment on the Recipe
Comments may be moderated. If you don't see your comment, please be patient. It may be posted soon. Do not post your comment a second time. Thank you.