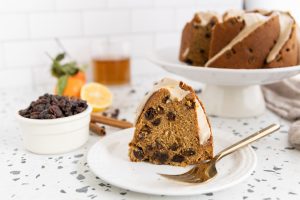 Ingredients
11/3

Cups

California Raisins

11/4

Cups

Dark Rum

2

Cups

All Purpose Flour*

1

Teaspoon

Baking Powder

1

Tablespoon

+ 1 teaspoon Cinnamon

1

Teaspoon

Nutmeg

1

Teaspoon

Ground Ginger

1/2

Teaspoon

Ground Cloves

1

Teaspoon

Kosher Salt

1/2

Cup

Butter, softened

1

Cup

Dark Brown Sugar

Zest of 2 lemons

Zest of 2 oranges

2

Teaspoons

Vanilla Extract

3

Eggs , room temperature

1/4

Cup

Vegetable OIl
Procedure
All ingredients need to be at room temperature before you begin.
Put California Raisins and rum in a small saucepan.  Heat uncovered on low until boiling, about 7-10 minutes.  Turn off the heat after boil, set aside, and allow to come to room temperature.
Preheat oven to 350 degrees.  Sift flour, baking powder, cinnamon, nutmeg, ginger, cloves, and salt in a bowl.   Place butter and dark brown sugar, lemon zest, and orange zest in a kitchen aid bowl fitted with a paddle attachment.  Whip on high speed for five minutes until light and fluffy.  Add vanilla, then add eggs one at a time, scraping down the sides of the bowl with a rubber spatula after each addition.  Mix on high for another three minutes.  Add dry ingredients, in three portions.  Scrape down the sides after each addition.  Do not over mix!  Mix just until combined.
Remove batter from the kitchen aid machine and fold in rum and California Raisins with a spatula.   Grease or oil bundt pan. Pour batter into the bundt pan and smooth top with a spatula.  Tap pan against the table to remove air bubbles and pockets.  Bake 35-40 minutes or until a toothpick inserted in the center comes out clean.   Cool in pan for 10 minutes on a wire rack.  The cake can be served warm.
Ideally, invert cake onto a plate, wrap in plastic to mature flavors overnight, and then add the glaze.
Ingredients for Rum Raisins Glaze
1/3

Cup

California Raisins

1/3

Cup

Dark Rum

3/4

Cup

Powdered Sugar, sifted (3/4 cup up to 2 cups) depending on desired consistency and sweetness)

1/4

Cup

+ 2 TB Milk
Glaze:
Heat rum and raisins in the microwave for 30 seconds.  Allow to cool to room temperature. Blend milk with California raisins and rum mixture until smooth.  Whisk together with sifted powdered sugar.  Spoon or pipe onto bundt cake.
*For a Gluten-Free version, substitute all-purpose flour with Gluten-Free 1 to 1 baking flour.
Thanks to Kyleen Attonson and Food Heaven for their contributions to this delicious recipe!
5. A ¼ cup serving of raisins provides 6% of the daily value for potassium.