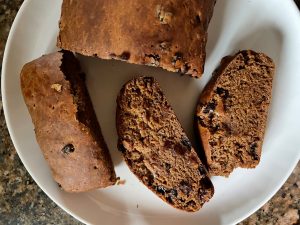 Ingredients
2

Cups

All Purpose Flour

1/5

Cup

Sugar

1/2

Cup

California raisins

1

Teaspoon

Cinnamon

1

Teaspoon

Baking Soda

1/2

Teaspoon

Ground Ginger

1/2

Teaspoon

Baking Powder

1/2

Teaspoon

Salt

1/2

Cup

Honey (set aside)

1

Cup

Boiling Water (set aside)
Procedure
In a large bowl, combine all ingredients except for the honey and boiling water. Once mixed, add in honey + boiling water. Stir until mixed thoroughly.
Pour batter into a greased loaf pan and bake at 350 degrees F for 50 minutes.
Thanks to Grey & Mama for this recipe
Raisins are great food choices for most individuals, including those with Type 2 diabetes mellitus (T2DM).
- by James W. Anderson, M.D., Professor of Medicine and Clinical Nutrition, Emeritus, University of Kentucky.