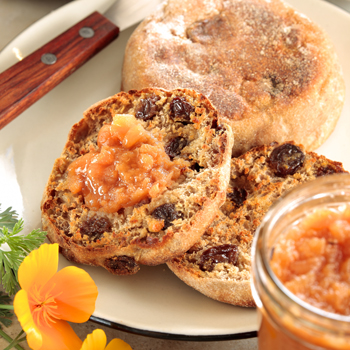 Walnut-Raisin English Muffin
Submitted by:
Craig Ponsford - Ponsford's Place - San Rafael, CA
FORMULA
Biga
Final Dough
Total Formula
Metric/kg
Bakers %
Metric/kg
 Metric/kg
Bakers %
Hard White Bakers Flour
0.3721
100.00
1.116
1.488
100.00
Powdered Milk
0.074
0.074
5.00
Water
0.2605
70.00
1.153
1.414
95.00
Salt
0.0004
0.10
0.029
0.030
2.00
Instant Yeast
0.0001
0.03
0.011
0.011
0.75
Applesauce
0.074
0.074
5.00
Butter, unsalted
0.015
0.015
1.00
Walnuts
0.0001
0.04
0.298
0.298
20.00
Maceration liquid
0.223
15.00
Natural Raisins
0.372
25.00
Natural Raisins (Macerated)
0.595
Biga
0.633
Totals
0.6330
169.00
4.000
4.000
268.75
PROCEDURE
Posted
July 5, 2012 by Gary
Servings
Ingredients
Directions
12 hours before final mixing, mix the sponge ingredients until a cohesive dough is formed. Move to a covered container and let rise for 12 hours at 75˚F.
Also 12 hours in advance, macerate raisins in water*, just to cover. Drain well prior to mixing (ideal macerated weight is reflected in the formula).
Final dough
Break biga into small pieces and mix with flour, powdered milk, salt, yeast,water and applesauce in a spiral mixer for 3 minutes.
Flake in butter and mix for 3 minutes on 2nd speed.
Add  drained raisins and walnut pieces. Mix on  Speed 1 to disperse evenly (desired dough temp 75°F).
Shaping and proofing

Let dough ferment for two hours in a covered container, folding twice with thoroughly wet hands (the dough is very loose), at 40-minute intervals.
Using a generous dusting of flour, turn dough out onto bench and divide into 100 g pieces, premold into rounds.
Arrange on a well-floured wooden board leaving plenty of room for spread.
Proof for 1 hour.
Cooking
Heat a griddle on low and grill to a toasted brown on each side. May be finished in a 350°F oven if needed.
* To add character, consider accenting with a dash of nocello, amaretto or vin santo.
This recipe is found in the following categories:
(No Ratings Yet)
Loading...
Comment on the Recipe
Comments may be moderated. If you don't see your comment, please be patient. It may be posted soon. Do not post your comment a second time. Thank you.