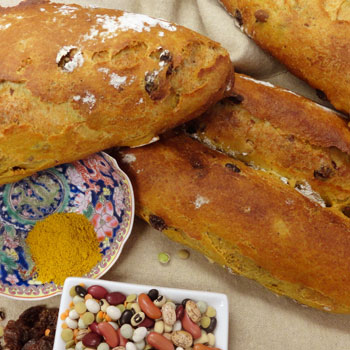 Tiger Leguminous Bread with California Raisins
Submitted by:
Dominique Homo
This very trendy tiger bread is prepared from a blend of integral wheat flour and a variety of grains like quinoa, wild rice and millet and legumes as lentils, yellow and green split peas. The California raisins add a touch of sweetness which is perfect for a healthy breakfast or snack bread. Tiger breads are easy to recognize as they appear with a nice cracked aspect. This bread features a light curry topping.
FORMULA
Sponge
Final Dough
Total Formula
Metric/g
Metric/g
 Metric/g
Bakers %
Artisan Bread Flour
500
250
750
75.00
Spelt Flour
250
 250
 25.00
Water
300
360
 660
 66.00
Salt
10
18
 28
 2.80
Curry Powder
8
 8
 0.80
Instant Yeast
 3
5
 8
 0.80
Drained Legumicous
 500
 500
 50.00
Macerated California Raisins
550
 550
 55.00
Sponge
813
Totals
813
2754
 2754
 275.00
PROCEDURE
Pre-Ferment
4 hours before final mixing, mix the sponge ingredients until a cohesive dough is formed. Adjust yeast amount according to fermentation time.
Also 12 hours in advance, macerate 500g California Raisins in water. Let them soak for 10 minutes then drain the water. Cover and set aside.
Also 12 hours in advance, boil 250g of Leguminous (mix beans) in 1000g of water. After 2 minutes of boiling, turn off heat and let Leguminous set overnight. One hour before mixing, drain excess water.
Final dough
Place flours, water, salt, curry powder and yeast in the bowl of a planetary mixer fitted with a dough hook. mix 2 minutes on low.
Add the sponge and mix for 3 minutes on medium.
Add the macerated raisins, drained leguminous and mix 2 minutes on low, then 1 minute on medium.
Let the dough ferment for 1 hour, with one fold after 30 minutes.
Divide into 340g pieces and slightly round. Let them rest for 20 minutes.
Tiger Topping
During the resting time, prepare the Tiger Topping by mixing  200g Spelt flour, 300g water, 30g instant yeast, 4g salt and 6g curry powder.
Shaping
Shape as a batard and place on baking paper.
Add the Tiger topping and sift white flout on top.
Proofing
Proof for 45 minutes at room temperature.
Bake in a deck oven with steam at 450˚F to start, then 440˚F for about 28 minutes.
* Leguminous: Different mixes of legumes can be used; green pea, lentil, red lentil, white bean, red bean and black-eyed bean. You can even add wild rice, quinoa and chia seeds to the mix.
This recipe is found in the following categories:
(No Ratings Yet)
Loading...
Comment on the Recipe
Comments may be moderated. If you don't see your comment, please be patient. It may be posted soon. Do not post your comment a second time. Thank you.