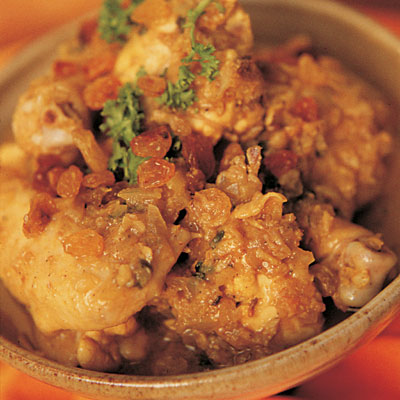 Spicy Chicken Stew with California Golden Raisins
Stew chicken with raisins, fresh gingerroot and several spices for a tropical flavor.
Details
Serving Size: 2 ounces chicken
INGREDIENTS
3/4 cup

California golden raisins

3

slice

young gingerroot, each about 1/8-inch thick

1

cup

water

1 1/2 pounds

chicken pieces, with bones and skin intact

1

tablespoon

butter

1/2 teaspoon

turmeric powder

1/2 teaspoon

saffron strands

1

teaspoon

freshly ground black pepper

1

cinnamon stick (1 1/2 inches long)

1

onion, cut into 1/4-inch dice (about 1 cup)

2 1/2 tablespoons

finely chopped fresh parsley or cilantro

2

tablespoons

balsamic vinegar

1/2 teaspoon

salt
PROCEDURE
In a small saucepan, simmer raisins, ginger and water over medium-low heat for 5 to 10 minutes or until liquid is reduced by half and raisins are plump. Pour into a blender and blend to a fine purée. Strain purée into a 3-quart nonstick pot, pressing hard on any remaining solids to extract all the liquid.
Add remaining ingredients except balsamic vinegar and salt; partially cover and bring to a boil over medium-low heat. Simmer for 30 to 40 minutes or until chicken is very tender and sauce is thick. Stir more frequently toward end of cooking to prevent scorching; add water as neccessary.
To Assemble
After sauce has thickened and chicken is tender, finish stew by adding balsamic vinegar and salt. Cook 1 minute more. Serve with hot bread.
Nutrition Facts Per Serving
Calories 490 (71% from fat); Total Fat 39g (sat 12g, mono 16g, poly 8g, trans <1g ); Cholesterol 130mg; Protein 16g; Carbohydrate 20g; (Dietary Fiber 2g; Sugars 16g; ); Iron 2mg; Sodium 290mg; Calcium 37mg; Potassium 342mg
This recipe is found in the following categories:
(No Ratings Yet)
Loading...
Comment on the Recipe
Comments may be moderated. If you don't see your comment, please be patient. It may be posted soon. Do not post your comment a second time. Thank you.