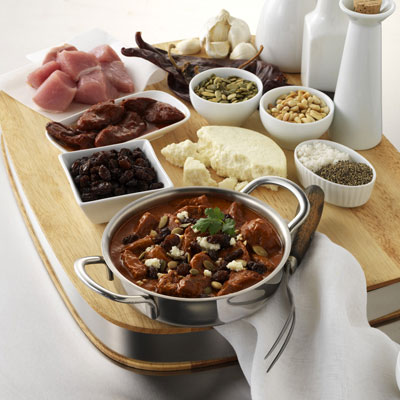 Slow Cooked Pork with Guajillo Chile and California Raisins Pipian
Submitted by:
Robert Del Grande
Spicy, hot stew filled with the flavors of Mexico.
INGREDIENTS
Slow Cooked Pork
1

pork shoulder (about

10

pounds)

1

gallon

water

2

tablespoons

salt

4

ounce

peeled garlic cloves

1

pound

yellow onions, peeled and cut into eighths
Guajillo and California Raisin Pipian
4

ounce

stemmed and seeded Guajillo chiles

8

ounce

California raisins

2

ounce

peeled garlic cloves

6

ounce

pine nuts, lightly toasted

6

ounce

shelled pumpkin seeds, lightly toasted

4

chipotle chiles canned in adobo sauce

2

quarts

pork stock (from slow cooked pork)

2

ounce

butter, melted

2

tablespoons

salt
Garnishes
California raisins

shelled pumpkin seeds

Queso fresco

Cilantro sprigs
PROCEDURE
Slow Cooked Pork
Divide pork shoulder into quarters. Combine with water, salt, garlic and onions in a pot large enough to hold pork; simmer for 1-1/2 hours or until pork is tender. Drain, reserving liquid, and cool. Trim any excess fat from pork and cut into 1-inch cubes or pieces. Set aside.
Guajillo and California Raisin Pipian
Lightly toast chiles in a 350°F oven for 15 minutes. Do not allow to burn or darken too much. Transfer to a bowl and add warm water to cover; let stand about 30 minutes or until chiles are soft. Combine raisins and garlic in a saucepan. Add water to cover. Bring to boil and simmer until garlic is soft, about 15 minutes. Drain and set aside. In a blender, combine chiles, raisins, garlic and remaining ingredients for sauce. Purée until smooth.
Finishing the Pork
Skim pork fat from reserved broth and render in a deep wide skillet or heat a little oil until hot and lightly brown pork cubes, in batches, if necessary. (Do not crowd the skillet.) When pork is all browned, return to skillet and add Raisin Pipian; heat to a very gentle simmer. Gently stir and scrape the bottom of the pan to release any bits of caramelized pork. Continue to simmer for 30 minutes, adding reserved stock as needed to thin to a creamy consistency.
To Serve
Lightly sauté raisins for garnish in a little butter or rendered porkfat. Toast some pumpkin seeds. Crumble queso fresco into large coarse chunks. Transfer pork and sauce to serving bowl. Sprinkle with sautéed raisins, toasted pumpkin seeds, and crumbled queso fresco; arrange cilantro sprigs on top. Serve hot.
Chef Notes: May be prepared with grilled, oven roasted or broiled chicken breasts. See recipe for Grilled Chicken with Guajillo Chile and California Raisin Pipian.
Sliced radishes and chopped white onions are nice garnishes or may be served on the side.
Nutrition Facts Per Serving
Calories 590 (62% from fat); Total Fat 40g (sat 14g, mono 17g, poly 6g, trans 0g ); Cholesterol 160mg; Protein 44g; Carbohydrate 12g; (Dietary Fiber 2g; Sugars 7g; ); Iron 4mg; Sodium 1180mg; Calcium 50mg; Potassium 793mg
This recipe is found in the following categories:
(No Ratings Yet)
Loading...
Comment on the Recipe
Comments may be moderated. If you don't see your comment, please be patient. It may be posted soon. Do not post your comment a second time. Thank you.