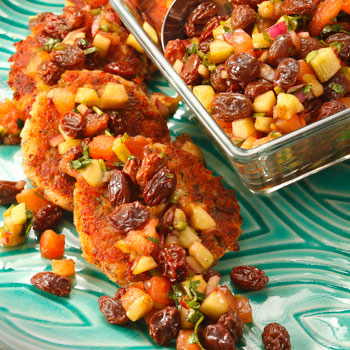 Salmon Cakes with California Raisins and Cucumber Relish
INGREDIENTS
2 1/2 cups

potatoes, peeled, halved,

cut into 1 inch pieces

1

cup

Salmon, poached, cooled, and flaked.

1

cup

fresh breadcrumbs

1/2 cup

California raisins

2/3 cup

skim milk

2

tablespoons

whole-grain mustard

3

tablespoons

mayonnaise

2

tablespoons

plus 1 tsp minced smoked salmon

1

tablespoon

chopped capers

5

teaspoons

chopped chives

5

teaspoons

chopped dill

1 teaspoon

coarse grind black pepper
Cucumber Relish
1 1/4 cups

diced seedless cucumbers

1

cup

tomato concassé

1/3 cup

California raisins

1/2 cup

diced red onion

1

tablespoon

minced jalapeño or red pepper flakes

4

teaspoons

balsamic vinegar

1

tablespoon

chopped cilantro

2

teaspoons

olive oil
PROCEDURE
Posted
June 17, 2013 by Melinda
Servings
10
Ingredients
2 1/2 cups

potatoes, peeled, halved,

cut into 1 inch pieces

1

cup

Salmon, poached, cooled, and flaked.

1

cup

fresh breadcrumbs

1/2 cup

California raisins

2/3 cup

skim milk

2

tablespoons

whole-grain mustard

3

tablespoons

mayonnaise

2

tablespoons

plus 1 tsp minced smoked salmon

1

tablespoon

chopped capers

5

teaspoons

chopped chives

5

teaspoons

chopped dill

1 teaspoon

coarse grind black pepper
Cucumber Relish
1 1/4 cups

diced seedless cucumbers

1

cup

tomato concassé

1/3 cup

California raisins

1/2 cup

diced red onion

1

tablespoon

minced jalapeño or red pepper flakes

4

teaspoons

balsamic vinegar

1

tablespoon

chopped cilantro

2

teaspoons

olive oil
Directions
Simmer the potatoes in water until tender.  Drain and place the potatoes on a sheet pan in a warm over to steam dry, about 5 minutes.  Pureé the hot potates using a ricer or food mill.  Allow the potatoes to cool to room temperature and combine with the remaining salmon cake  ingredients.  Form into 20 small cakes.  To prepare the cucumber relish, toss the relish ingredients together.  Drain any excess liquid from the relish and reserve it to toss with mixed greens.  For each portion, cook 2 cakes in a preheated seasoned skillet until golden brown on each side, about 8 minutes.  Serve the salmon cakes with approximately a tablespoon of cucumber relish.
Nutrition Facts Per Serving
Calories 260 (23% from fat); Total Fat 6g (sat 1g, mono 1g, poly 0g, trans 0g ); Cholesterol 15mg; Protein 11g; Carbohydrate 41g; (Dietary Fiber 3g; Sugars 4g; ); Iron 2mg; Sodium 177mg; Calcium 56mg; Potassium 490mg
This recipe is found in the following categories:
(No Ratings Yet)
Loading...
Comment on the Recipe
Comments may be moderated. If you don't see your comment, please be patient. It may be posted soon. Do not post your comment a second time. Thank you.