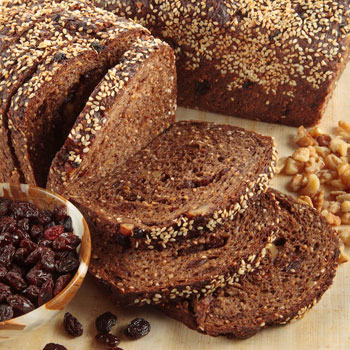 Raisin Walnut Multi-Grain Wheat Bread "Birdseed"
"I wanted to make a multi-grain whole wheat bread that is good as a sandwich bread, but also could be eaten at breakfast. It has a small amount of honey, but the sweetness comes from the raisins. It is an All-California bread: the flour, walnuts, honey and raisins all come from the Central Valley."
FORMULA
Size: 6"L x 4"W x 4"H | # Loaves that can be made from 5 lbs flour: 20 | Production Time: 2 hours | % of California Raisin Product to dry flour weight: 70%
PRE-FERMENT
INGREDIENTS
American oz
Metric g/mL
Baker's %
Whole Grain Flour
70 oz
1985 g
79.56%
Vital Wheat Gluten
18 oz
510 g
20.44%
California Natural Raisins
62 oz
1760 g
70.54%
9-Grain Mix, Coarse
70 oz
1985 g
79.56%
Walnuts
10 oz
285 g
11.42%
Salt
2.8 oz
80 g
3.21%
Honey
4.4 oz
125 g
5.01%
Oil
4.4 oz
125 mL
5.01%
Yeast, Instant Dry
4 oz
113 g
4.53%
Caramel Color
1.4 oz
40 mL
1.60%
Water
84 oz
2381 mL
95.43%
TOTALS
20 lbs, 11 oz
9386 g
376.31%
PROCEDURE
PRE-FERMENT
Mixing Time
3-5 Minutes on first speed
Dough Temp
26oC
Fermentation Time
1.5 Hours
Fermentation Temp
Room Temp (approx. 23oC – 24oC)
FINAL DOUGH
Mixing Time
10 minutes
Mixing Speed
2
Dough Temp
75oF
Fermentation Time
Fermentation Temp
Dividing Weight
20 oz
Resting Time
30 minutes
Make Up
Divide the dough into 20 oz. pieces. Round and place two balls in a Pullman loaf pan. Proof and Bake.
Proofing Time
1 Hour
Proofing Temp
95oF
Proofing Humidity
95%
Type of Oven
Rack
Baking Temp
375oF
Baking Time
45 Minutes
Steam if Needed
Yes
Finished Product Weight
16+ oz each
This recipe is found in the following categories:
(No Ratings Yet)
Loading...
Comment on the Recipe
Comments may be moderated. If you don't see your comment, please be patient. It may be posted soon. Do not post your comment a second time. Thank you.