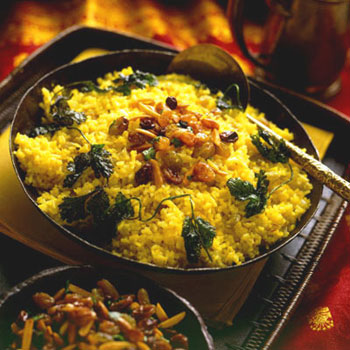 Raisin Saffron Basmati Rice Pilaf (Zaffran Kismis Pullao)
Exotic flavors and basmati rice for an extraordinary side dish.
INGREDIENTS
2

cups

uncooked basmati rice

1/2 teaspoon

saffron threads

1

cup

coconut milk

6

tablespoons

butter or vegetable oil, divided

1

cup

finely chopped red onions

1

tablespoon

minced fresh ginger

1

teaspoon

minced garlic

6

whole cloves

3

black cardamom pods

2

(3-inch pieces) cinnamon sticks

1

cup

California golden raisins, divided

2

tablespoons

sugar

1 1/2 teaspoons

salt

2

cups

water

1/2 cup

slivered almonds

2

tablespoons

minced fresh cilantro
PROCEDURE
Gently rinse rice 3 to 4 times in cold water; drain well. Set aside.
In small skillet, toast saffron threads over medium-high heat 20 to 30 seconds or until they turn one shade darker. Add to coconut milk; stir well. Set aside.
In 1-quart saucepan, heat 4 tablespoons butter over medium-high heat; add onions, ginger and garlic. Stir-fry 1 to 2 minutes or until onions soften slightly.
Stir in cloves, cardamom and cinnamon. Cook 1 to 2 minutes more, stirring occasionally to blend flavors.
Add rice, saffron-coconut milk, 1/2 cup California golden raisins, sugar, salt and water; bring to a boil. Reduce heat to medium; stir once. Cover; cook 10 minutes more. Reduce heat to low. Cook, covered, 5 minutes more; set aside.
In small skillet, heat remaining 2 tablespoons butter over medium heat. Stir-fry 1/2 cup California golden raisins and almonds 1 to 2 minutes or until raisins are plump and nuts turn golden brown. Stir in cilantro; set aside.
Fluff rice with fork; discard cardamom pods, cloves and cinnamon sticks. Transfer to a serving platter; garnish with stir-fried California golden raisins and nuts.
Notes: Basmati rice, a highly aromatic variety grown in the foothills of the Himalayan Mountains, is widely available in supermarkets.
Purchase saffron threads. Avoid buying saffron powder because it may not be in a pure form.
Pullaos are often served with the main course – either meat-based or vegetarian – as the starch alternative.
Large stalks of fresh cilantro, when deep fried, will yield dark green crispy stalks, ideal for garnishing the serving platter.
Nutrition Facts Per Serving
Calories 400 (31% from fat); Total Fat 14g (sat 7g, mono 5g, poly 1g, trans 0g ); Cholesterol 25mg; Protein 6g; Carbohydrate 63g; (Dietary Fiber 3g; Sugars 19g; ); Iron 1mg; Sodium 460mg; Calcium 47mg; Potassium 327mg
This recipe is found in the following categories:
World Flavors
(No Ratings Yet)
Loading...
Comment on the Recipe
Comments may be moderated. If you don't see your comment, please be patient. It may be posted soon. Do not post your comment a second time. Thank you.