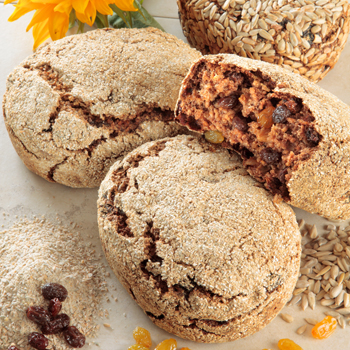 Pumpernickel
Submitted by:
Craig Ponsford - Ponsford's Place - San Rafael, CA
FORMULA
PROCEDURE
Posted
July 2, 2012 by Gary
Servings
Ingredients
Directions
12 hours prior to final mixing, take sourdough seed and mix with sponge ingredients until a cohesive dough is formed. Let rise, covered, for 12 hours at 75°F.
Also, 12 hours in advance, macerate raisins in enough water*, just until covered. Drain well prior to mixing (ideal macerated weight is reflected in the formula).
Final Dough
Mix pumpernickel, salt, yeast, raisin paste and water on low for 2 minutes.
Break the mature sour into small pieces and mix on low for 15 minutes more (desired dough temperature is 75°F).
Add drained raisins and mix to disperse evenly.
Remove dough from mixer and place in a covered container to bulk ferment for 45 minutes.
Shaping and Proofing
After fermenting for 45 minutes, divide with thoroughly wet hands, smooth into a round shape and coat with a medium grind pumpernickel rye, sunflower seeds or cornmeal and press evenly into a small loaf pan.
Proof for 1 hour, even though it is a dense bread there will be noticeable expansion.
Baking
Bake at 400°F for 15 minutes, lower the oven to 350°F and bake for approximately 45 minutes.
After the first 45 minutes, remove bread from the pans in order to firm up the side walls and finish the bake on sheet pans.
Cool on rack. Traditional pumpernickel has a seven day shelf life, it is best after at least 12 hours.
*To add character, consider accenting with a dash of P.X. Sherry, balsamic vinegar or caraway liqueur.
This recipe is found in the following categories:
(No Ratings Yet)
Loading...
Comment on the Recipe
Comments may be moderated. If you don't see your comment, please be patient. It may be posted soon. Do not post your comment a second time. Thank you.