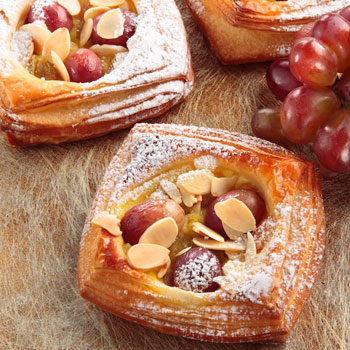 Muscat Grape ~ Vanilla Cream Raisin Danish
"My pastry is a tribute to the fruitful land of California. I was inspired to incorporate many aspects of California grown produce. I decided to enhance the flavor of raisins in my Danish by plumping them in wine made from Muscat grapes and I topped the pastry off with fresh grapes to highlight the beauty of raisins before being dried."
FORMULA
Size: 3.5"L x 3.5"W x 1"H | Production Time: 6 hours | # Loaves that can be made from 5 lbs flour: 72 | % of California Raisin product to dry flour weight: 57%
INGREDIENTS
American
Metric
Yield%
Baker's%
Pre-Fermented Ingredients    
Bread Flour
4.69 oz
 1.33 g
100%
Water
6.35 oz
 180 g
 135.34%
Yeast
0.47 oz
 13.3 g
 10%
Total
11.5 oz
 326.3 g
 
 245.34%
Soaker Ingredients    
Golden Raisins
6.35 oz
 180 g
 46.15%
Water
5.29 oz
 150 g
 38.46%
Moscato Wine
2.12 oz
 60 g
 15.38%
Total
11.5 oz
 5636 g
 100%
 
Pastry Cream Ingredients    
Milk
1 lb, 1.64 oz
 500 g
 60.24%
Sucrose
4.41 oz
 125 g
 15.06%
Egg Yolk
4.23 oz
 120 g
 14.46%
Butter
1.76 oz
 50 g
 6.02%
Pastry Cream Powder
1.23 oz
 35 g
 4.22%
Madagascar Vanilla Bean
1 each
 1 each
Total
1 lb, 13.27 oz
 830 g
 100%
 
Raisin Pastry Ingredients    
California Raisin Paste
6.35 oz
 180 g
 49.59%
Moscato Wine
5.08 oz
 144 g
 39.67%
Toasted Almonds (to be ground)
1.38 oz
 39 g
 10.74%
Total
12.81 oz
 363 g
 100%
 
Final Dough Ingredients    
Bread Flour
1 lb, 5.12 oz
 600 g
 100%
Milk
8.22 oz
 233 g
 38.83%
Butter (soft)
2.57 oz
 73 g
 12.67%
Sucrose
1.87 oz
 53 g
 8.83%
Salt
0.56 oz
 16 g
 2.67%
Butter (for Butter Book)
1 lb, 0.32 oz
 462 g
 77%
Total
3 lbs, 2.66 oz
 1437 g
 
 240.0%
PROCEDURE
Pre-Ferment
BT: 54
In a bowl, add yeast, water and cover with bread flour. Let sit for 30 minutes.
Mixing Time
None
Fermentation Time
30 minutes
Fermentation Temp
Room Temp, approx 70oF
Soaker
Soak Golden Raisins in liquid overnight at room temperature to plump.
Pastry Cream
Add milk, butter, vanilla bean and half of sucrose in a pot. Bring to simmer and temper in eggs mixed with pastry cream powder and remaining sucrose. Strain mixture back onto the heat and cook for 1-2 minutes at high heat. Pour onto a sheet tray and place in freezer for 10 minutes to cool down quickly. Store in cooler.
Raisin Pastry
Cook the raisin paste and wine until thick, about 5 minutes. Once cool, add ground toasted almonds. Fold in 62% of pastry cream to raisin paste to complete raisin pastry cream.
Final Dough
Add poolish with all other ingredients (except butter book) into a mixing bowl and mix on 1st speed for 4-5 minutes. Then mix on 2nd speed for 1 minute. Once the dough has come together, let it rest for 30 minutes at room temperature. The final dough temperature should be between 23 and 25oC. After resting, put into cooler overnight to get very cold before starting lamination.Fold butter book and do first two single turns immediately. Make sure dough is very cold. Let the Danish dough rest in freezer 15-30 minutes or in the cooler for 2 hours. Complete the third single turn and sheet out to 1/8″. Cut into 3.5″ x 3.5″ square pieces and egg wash each Danish. Proof at 80% humidity and 28oC for 1-2 hours.Once proofed, let stand at room temperature for 15 minutes to dry. Egg wash once more and fill Danish. Pipe 18 g raisin pastry cream first then layer with 22 g vanilla pastry cream. Top with 10 g soaked and strained raisins and 5 g partially toasted almonds and 3 grapes. Final Danish weight is about 122 g.
This recipe is found in the following categories:
(No Ratings Yet)
Loading...
Comment on the Recipe
Comments may be moderated. If you don't see your comment, please be patient. It may be posted soon. Do not post your comment a second time. Thank you.