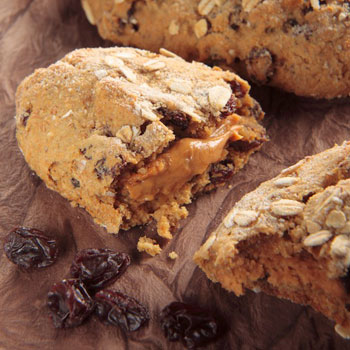 Marathon Mini Loaf
The need for proper nutrition when embarking on a distance run. Runners begin the day with healthy carbohydrates, protein, fiber and a little fat. Race finish lines most always offer bread (bagels). With the growing popularity of running, this easy to make bread is sure to be a hit and get us through the three and a half hour long run.
FORMULA
Size: 3.5"L x 2"W x 2"H | Production Time: 30 minutes | Loaves that can be made from 5 lbs flour: 84 mini loaves | % of California Raisin product to dry flour weight: 93.7%
INGREDIENTS
American
Baker's
Final Dough Ingredients  
Whole White Wheat Flour
11.2 oz
100%
California Natural Raisins
10.5 oz
93.7%
Water
9.3 oz
83%
Rolled Oats
5 oz
44.6%
Brown Sugar
3 oz
26.8%
Peanut Butter (Creamy Style)
3 oz
26.8%
Vegetable Oil
0.6 oz
5.4%
Baking Soda
0.6 oz
5.4%
Cream of Tartar
0.25 oz
2.23%
Sea Salt (top loaves before baking)
1 oz
0.89%
Total
2 lbs, 12.45 oz
388.82%
PROCEDURE
Final Dough 
Mixing Time & Speed
5 minutes on low
Dough Temp
Ambient
Dividing Weight
3.6 oz
Resting Time
N/A
Make Up
Add 0.25 oz peanut butter to center of flattened dough. Roll to form loaf. Roll top of mini loaf in flour, oats and sea salt.
Type of Oven
Electric
Baking Temp
375oF
Baking Time
12-15 minutes
Finished Product Weight
3-5 oz
This recipe is found in the following categories:
(No Ratings Yet)
Loading...
Comment on the Recipe
Comments may be moderated. If you don't see your comment, please be patient. It may be posted soon. Do not post your comment a second time. Thank you.