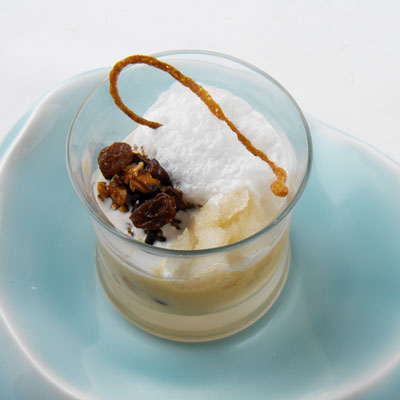 Golden Raisin Granizado with Rum Cream, Candied Walnuts and Raisins
Submitted by:
Norman Van Aken
A light dessert or palate cleanser.
INGREDIENTS
Golden Raisin Granizado
1

cup

loosely packed California golden raisins

4

cups

water

1/4 cup

granulated sugar

1

teaspoon

unflavored gelatin powder
Candied Walnuts and Raisins
1 1/2 cups

walnuts

2 1/2 teaspoons

Powdered sugar

1/2 teaspoon

cayenne pepper

1

teaspoon

peanut oil

1

teaspoon

kosher salt

3/4 cup

California raisins
Rum Cream
1

cup

heavy cream, divided

1/3 teaspoon

unflavored gelatin powder

1

teaspoon

Powdered sugar

2

tablespoons

rum
PROCEDURE
Granizado
Combine raisins, water and sugar in saucepan over medium-low heat. Stirring occasionally, simmer until sugar dissolves, 3 to 5 minutes. Remove from heat and purée in blender or food processor. (Close top securely and hold with a dishtowel. The hot mixture can build up pressure and cause the top to blow off.) While still hot, pour into medium bowl over ice bath and quickly whisk in gelatin till dissolved. Let cool. Cover with plastic wrap and freeze for 4 hours or overnight.
Walnuts and Raisins
Preheat oven to 375°F. Line baking sheet with silicone baking mat or parchment paper. Measure walnuts, powdered sugar, pepper, peanut oil and salt into medium bowl; toss to mix. Spread evenly on prepared baking sheet and bake at 375°F until toasted and lightly caramelized, about 10 minutes. Let cool on rack. When completely cool, mix in raisins and set aside.
Rum Cream
Place 3/4 cup plus 2 tablespoons of the cream in medium bowl over ice water bath. Heat remaining 2 tablespoons cream over medium heat and whisk in gelatin to dissolve. Whisk heated cream into chilled cream over ice bath. Then, whisk in sugar and rum; continue whisking until stiff peaks form.
To Serve
Arrange short glasses or serving dishes on a tray. With fork, scrape granizado to form scoops of ice and place in bottom of glasses. Top with cream (or foam) and sprinkle with candied walnuts and raisins. Serve immediately.
Chef Note: To make rum foam, if you have a soda siphon, substitute half-and-half for heavy cream. Follow procedure above through whisking in sugar and rum. Then, whisk until just combined. Do not whip to stiff peaks. Let chill completely and place in the siphon to dispense rum foam.
Nutrition Facts Per Serving
Calories 260 (55% from fat); Total Fat 17g (sat 5g, mono 4g, poly 6g, trans 0g ); Cholesterol 25mg; Protein 5g; Carbohydrate 25g; (Dietary Fiber 2g; Sugars 20g; ); Iron 1mg; Sodium 170mg; Calcium 34mg; Potassium 265mg
This recipe is found in the following categories:
(No Ratings Yet)
Loading...
Comment on the Recipe
Comments may be moderated. If you don't see your comment, please be patient. It may be posted soon. Do not post your comment a second time. Thank you.