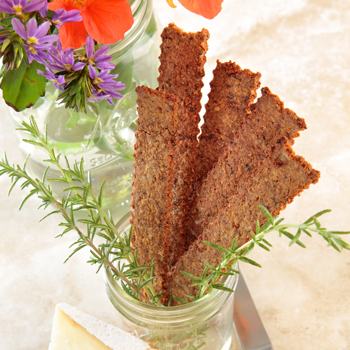 Gluten-Free Cracker
Submitted by:
Craig Ponsford - Ponsford's Place - San Rafael, CA
FORMULA
Total Formula
Metric/kg
Bakers %
Oat Flour
0.133
40.00
Almond Meal
0.199
60.00
Baking Powder
0.003
1.00
Natural Raisin Paste
0.133
40.00
Water
0.133
40.00
Salt
0.005
1.50
Rosemary
0.003
1.00
 Totals
0.600
PROCEDURE
Posted
July 10, 2012 by Gary
Servings
Ingredients
Directions
Dough
Chop fresh rosemary finely.
Briefly mix flours, baking powder, rosemary and salt in a bowl.
Add natural raisin paste and mix until mixture is crumbly.
Add water and mix until shaggy, press together and flatten into a rectangle.
Chill for one hour, roll out and fold until dough becomes cohesive and roll to 1/4″ thick.
Dock as desired and chill for 20 minutes.
Take out and cut into 1″ wide strips, place on parchment-lined sheet pans.
Baking
Bake for 15 minutes at 325°F. Crackers will be a deep golden brown.
This recipe is found in the following categories:
(No Ratings Yet)
Loading...
Comment on the Recipe
Comments may be moderated. If you don't see your comment, please be patient. It may be posted soon. Do not post your comment a second time. Thank you.