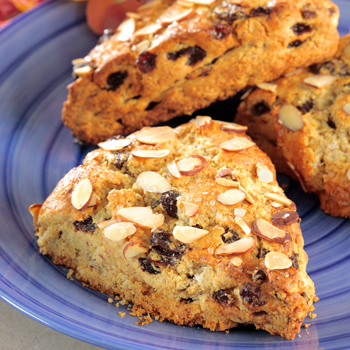 Gluten-Free Almond Corn Raisin Scone
Submitted by:
Craig Ponsford - Ponsford's Place - San Rafael, CA
FORMULA
Total Formula
Metric/kg
Bakers %
Cornmeal
0.363
30.00
Almond Meal
0.242
20.00
Sorghum
0.242
20.00
Tapioca Starch
0.363
30.00
Sugar
0.121
10.00
Baking Powder
0.048
4.00
Salt
0.012
1.00
Butter, Unsalted
0.363
30.00
Eggs
0.133
11.00
Cream
0.302
25.00
Honey
0.073
6.00
Applesauce
0.060
5.00
Natural Raisins
0.423
35.00
Maceration Liquid
0.254
21.00
 Lemon Zest
0.012
1.00
 Totals
3.000
248.00
PROCEDURE
Posted
July 10, 2012 by Gary
Servings
Ingredients
Directions
One day in advance, macerate raisins in water*, just until covered. Drain well prior to mixing (ideal maceration weight is reflected in the formula).
Dough
Cut butter into 1/2″ cubes and chill well.
Briefly mix flours, sugar, baking powder and salt in a planetary mixer fitted with a paddle.
Add butter and mix on low for 2 minutes until butter has broken into slightly smaller pieces.
Add eggs, cream, honey and applesauce. Mix until shaggy.
Mix in drained raisins and zest until just incorporated.
Divide into 1500 g pieces, and press into 9″ rounds lined with parchment, invert onto sheet pans with parchment.
Chill, cut into wedges, egg wash, sprinkle with sliced almonds and sugar crystals.
Arrange wedges from two rounds on sheet pan, leaving room for expansion.
Baking
Bake at 325°F on low convection for 20 minutes.
Cool completely.
* To add character, consider accenting with a dash of orange blossom water, amaretto or Limoncello.
This recipe is found in the following categories:
(
1
votes, average:
4.00
out of 5)
Loading...
Comment on the Recipe
Comments may be moderated. If you don't see your comment, please be patient. It may be posted soon. Do not post your comment a second time. Thank you.