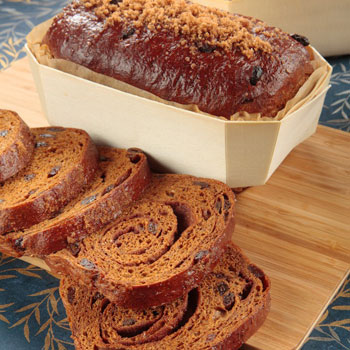 Cinnamon Swirl Raisin Bread
"My Creator blesses me with inspiration and creativity. Also, as a child and into adulthood, my mother often spoiled our family with her homemade cinnamon twists. My love for raisin bread and the memory of Mother's cinnamon twists are combined in this creation."
FORMULA
Size: 7"L x 3"W x 3"H | # Loaves that can be made from 5 lbs flour: 11 | % of California Raisin Product to dry flour weight: 54.2% | Production Time: 1-1/2 hours
 
MAIN DOUGH
INGREDIENTS
American lb/oz
Metric g/mL
Baker's %
Bread Flour
3 lb, 1.25 oz
1397 g
60.63%
Whole Wheat Flour (medium grind)
2 lb
907 g
39.37%
Water
3 lb
1361 mL
59.08%
Yeast
3 oz
85 g
3.69%
California Raisin Powder
12 oz
340 g
14.92%
Cinnamon
1.5 oz
43 g
1.87%
Salt
1.7 oz
48 g
2.08%
Dry Milk Solids
4 oz
113 g
4.90%
Butter
3 oz
85 g
3.69%
California Natural Raisins
2 lb
908 g
39.41%
Brown Sugar
9.8 oz
279 g
12.11%
Black Tea (lukewarm, for soaking raisins)
n/a
n/a
n/a
Clarified Butter (for brushing finished loaves)
n/a
n/a
n/a
TOTALS
12 lb, 4.25 oz
5566 g
241.75%
PROCEDURE
FINAL DOUGH
Mixing Time
10 minutes
Mixing Speed
2 (5 quart mixer)
Dough Temp
80.7oF/27oC
Fermentation Time
–
Fermentation Temp
–
Dividing Weight
1.05 lb/477 g
Resting Time
20 minutes
Make Up
25 minutes (see step 8 below)
Proofing Time
30 – 45 minutes
Proofing Temp
100oF/38oC
Proofing Humidity
85%
Type of Oven
Convection
Baking Temp
360oF/182oC (Pre-heat oven to 370oF/188oC, then drop to 360oF/182oC as the product is put into oven, before steaming)
Steam if Needed
8 – 10 seconds
Finished Product Weight
1 lb. 1 oz.

Pre-heat oven to 375oF.
Straight dough method.
Mix on speed 2 for 9 minutes.
While dough is mixing, pour lukewarm tea over raisins and soak for 5 minutes, then strain well in a sieve and sprinkle the 1.25 oz / 36 g of flour over them.
When mixing is completed, add the raisins with flour and mix an additional 1 minute or until gluten formation.
Cut into 1.05 lb/477 g portions, round, cover and rest 20 minutes.
Spray loaf pans; combine cinnamon and brown sugar.
Roll out into oval shape about 12 inches in length and about 5/8″ thick, egg wash and sprinkle 1 oz / 28 g of cinnamon sugar over the center of the dough, leaving about a 3/4″ egg washed border, roll up and shape into loaf form.
Proof for 30-45 minutes 100oF/85oC or until double in size.
Egg wash, stem for 8-10 seconds open vent, drop oven temperature to 360oF and bake for 20-22 minutes.
When loaves are removed from oven, brush with butter and sprinkle a small amount of the remaining cinnamon sugar over the top of each loaf.
This recipe is found in the following categories:
(No Ratings Yet)
Loading...
One Response
Comment on the Recipe
Comments may be moderated. If you don't see your comment, please be patient. It may be posted soon. Do not post your comment a second time. Thank you.