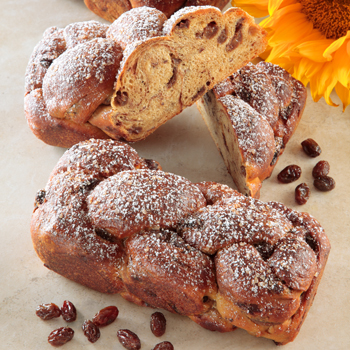 Cinnamon-Raisin Challah
Submitted by:
Craig Ponsford - Ponsford's Place - San Rafael, CA
FORMULA
Biga
Final Dough
Total Formula
Metric/kg
Bakers %
Metric/kg
 Metric/kg
Bakers %
Hard White Winter Wheat Flour
0.8307
100.00
2.492
3.323
100.00
Applesauce
0.332
0.332
10.00
Water
0.5815
70.00
0.615
1.196
36.00
Salt
0.0008
0.10
0.066
0.066
2.00
Instant Yeast
0.0002
0.03
0.025
0.025
0.75
Whole Eggs
0.665
0.665
20.00
Canola Oil
0.233
0.233
7.00
Cinnamon
0.033
0.033
1.00
Maceration liquid
0.798
24.00
Natural Raisins
1.329
40.00
Natural Raisins (Macerated)
2.127
Biga
1.413
Totals
1.4133
169.00
8.000
8.000
240.75
PROCEDURE
Posted
July 9, 2012 by Gary
Servings
Ingredients
Directions
12 hours before final mixing, mix the sponge ingredients until a cohesive dough is formed. Move to a covered container and let rise for 12 hours at 75˚F.
Also 12 hours in advance, macerate raisins in water*, just to cover. Drain well prior to mixing (ideal macerated weight is reflected in the formula).
Final dough
Mix flour, yeast, salt, water, eggs and applesauce in a spiral mixer on low for 3 minutes.
Add biga and mix on speed 2 for 3 minutes more.
Over the last minute slowly drizzle in oil and mix until fully absorbed.
Add drained raisins and mix to disperse evenly.
Shaping and proofing

Let dough ferment for two hours in a covered container with a fold after the first hour.
Turn out dough after the second hour and divide into 200 g pieces.
Flatten dough pieces into rectangles, dust heavily with cinnamon and premold tight 5″ cylinders.
Let rest for 20 minutes, roll into even strands roughly 24″ long. Using two strands, weave into a braid.
At the ends, tuck the longest piece over the others and give the braid a quick roll to make the thickness more uniform.
Move to a well-sprayed loaf pan, lightly egg wash and proof for one hour.
Just before baking, brush again with egg wash and sprinkle with sugar crystals and cinnamon.
Baking
Bake at 350°F on low convection for 25 minutes.
De-pan and cool on rack.
* To add character, consider accenting with a dash of Grand Marnier, Marsala or vin santo.
This recipe is found in the following categories:
(No Ratings Yet)
Loading...
Comment on the Recipe
Comments may be moderated. If you don't see your comment, please be patient. It may be posted soon. Do not post your comment a second time. Thank you.