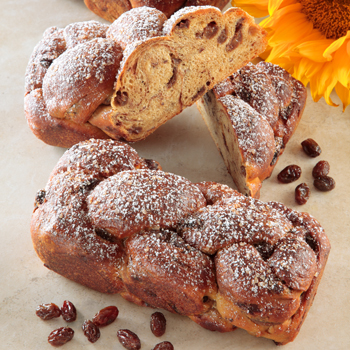 Cinnamon Raisin Challah Bread
Traditional holiday bread filled with California Raisins.
Yields One 1 1/2-pound loaf; twenty four 2-ounce rolls
Details
INGREDIENTS
2 1/4 teaspoons

instant yeast

4 1/2 cups

bread flour, divided

2/3 cup

warm water

2

eggs

1/2 cup

vegetable oil

1 1/4 teaspoons

salt

1/4 cup

granulated sugar

1 3/4 cups

California raisins

1

egg, for glaze
PROCEDURE
In large bowl, whisk yeast together with 3/4 cup flour. Then, whisk in warm water until smooth. Let stand, uncovered, for 10 to 20 minutes or until it begins to ferment and puffs up slightly. Then, whisk in eggs, one at a time; stir in oil, salt and sugar until well incorporated and sugar is dissolved. By hand with a wooden spoon, stir in remaining flour all at once. When mixture forms a shaggy ball, turn onto floured work surface and knead until smooth and soft, no more than 10 minutes. When windowpane consistency, knead in raisins until incorporated. Place in a clean, warm bowl and cover with plastic wrap. Let stand at room temperature until doubled in bulk, about 2 hours. Or dough may be refrigerated for 24 hours; remove from the refrigerator to finish fermenting.
Oil or line 1 or 2 large baking sheets, with parchment paper. Divide dough and braid or shape as desired. Arrange on prepared sheets and cover with plastic wrap; let proof until tripled in size, about 1 1/2 hours. Or loaves may be refrigerated up to 2 1/2 hours and warmed at room temperature for 1 1/2 hours.
Arrange oven racks in the upper and lower third positions for 2 baking sheets or upper third position for 1 baking sheet. Remove any remaining racks. Preheat oven to 350°F.
For glaze, beat egg with a pinch of salt. When loaves have tripled and remain indented when gently pressed with finger, brush with egg glaze. Bake rolls for 15 to 20 minutes and 1 1/2-pound loaves for 35 to 45 minutes, until very well browned. After 20 minutes, turn pans one-half turn. Tent with foil to prevent excess browning. When done, remove from pans and cool on a rack.
Variation: Sprinkle with cinnamon sugar topping.
Nutrition Facts Per Serving
Calories 180 (27% from fat); Total Fat 6g (sat 1g, mono 1g, poly 3g, trans 0g ); Cholesterol 25mg; Protein 4g; Carbohydrate 29g; (Dietary Fiber 1g; Sugars 9g; ); Iron 1mg; Sodium 135mg; Calcium 13mg; Potassium 118mg
This recipe is found in the following categories:
(No Ratings Yet)
Loading...
One Response
Comment on the Recipe
Comments may be moderated. If you don't see your comment, please be patient. It may be posted soon. Do not post your comment a second time. Thank you.