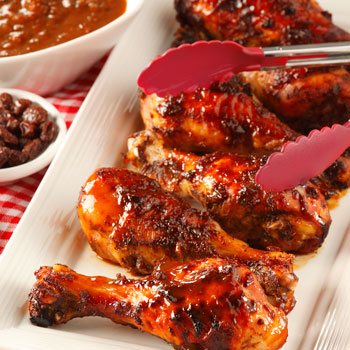 Chipotle Raisin Glazed Drumsticks
Submitted by:
Meredith Steele
This sauce is excellent on meat, chicken, shrimp, vegetables, roasted potatoes....the list is endless!
INGREDIENTS
2

cups

California raisins

2

chipotle chiles canned in adobo sauce

1

tablespoon

Adobo sauce

1/3 cup

chopped fresh cilantro

3

tablespoons

water

juice of 1 lime

about 1 Tablespoon

zest of 1 lime

about 1 teaspoon
1/2 teaspoon

cumin

pinch of salt

8

chicken drumsticks,

skinless chicken drumsticks can be used also
PROCEDURE
Chipotle Raisin Glaze
Place raisins in a pot.  Add just enough cold water to cover the raisins about 1/2 inch.  Over high heat, bring the raisins to a boil.  Once boiling, reduce the heat to medium and simmer for 10 to 15 minutes until the raisins are plump.  Strain the raisins, discarding the water, and place in a food processor or a high quality blender.  To the raisins, add chipotle peppers, adobo sauce, cilantro, water, lime juice, lime zest, cumin and salt.  Pulse for 1 to 2 minutes until the mixture is smooth.  If consistency seems overly thick, add a small amount of water.  Yields 2 cups of Chipotle Raisin Glaze.
Serve on red meats, chicken, shrimp, vegetables, roasted potatoes. This sauce will keep in the refrigerator for up to four days in an air-tight container.
If serving with chicken drumsticks, preheat oven to 400ºF. Reserve 1 cup of the Chipotle Raisin Glaze and set aside. With a spoon or basting brush, lightly brush all sides of each drumstick with the Chipotle Raisin Glaze. Place the sauced drumsticks on a baking sheet lined with foil lightly sprayed with cooking oil. Baste drumsticks with the glaze every 10 minutes while roasting. Roast for 30 minutes or until cooked through (juices are clear). Plate, serve, and use the reserved glaze for dipping.
This recipe is found in the following categories:
(No Ratings Yet)
Loading...
Comment on the Recipe
Comments may be moderated. If you don't see your comment, please be patient. It may be posted soon. Do not post your comment a second time. Thank you.