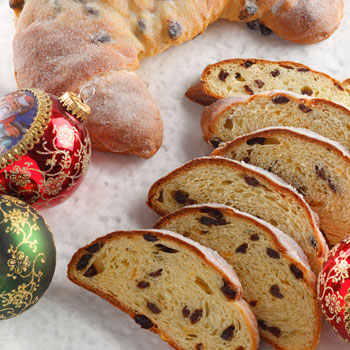 California Raisin Christmas Bread
Submitted by:
Dominique Homo
FORMULA
Total Formula
Metric/kg
Bakers %
Eggs
400
40.00
Water
300
30.00
Instant yeast
20
2.00
Salt
20
2.00
Sugar
120
12.00
Milk powder
40
4.00
All purpose unbleached flour
1000
100.00
Cold melted butter
400
40.00
Candied orange peel
100
10.00
California raisins
400
40.00
 Totals
2800
280.00
PROCEDURE
Posted
January 30, 2013 by Gary
Servings
Ingredients
Directions
In mixer bowl, mix eggs and water together until blended.
Beat in yeast, salt, sugar and milk powder.
Then, add flour; mix 3 minutes on first speed and 4 minutes on second speed.
Beat in butter until well incorporated.
Mix 6 minutes more or until mixture comes together and cleans sides of bowl.
Turn onto lightly floured work surface and knead in orange peel and raisins.
Cover with towel and let ferment for 1 hour.
Flatten and fold once. Recover and let ferment 1 hour longer.
Divide dough; scale into 5 pieces (about 1 pound, 3 ounces / 550grams each).
Shape into rounds and let rest for 15 minutes.
Roll out in triangle shape about 1/2-inch thick and shape into large croissant by rolling long side toward point.
Cover and proof for about 75 minutes or until doubled in bulk.
Bake in conventional oven for 20 to 25 minutes at 400°F or until done and lightly browned. (For convection oven, reduce temperature to 350°F and bake 20 to 25 minutes or until done and lightly browned.)
Remove from oven; brush with butter and roll in sugar.
This recipe is found in the following categories:
(No Ratings Yet)
Loading...
Comment on the Recipe
Comments may be moderated. If you don't see your comment, please be patient. It may be posted soon. Do not post your comment a second time. Thank you.