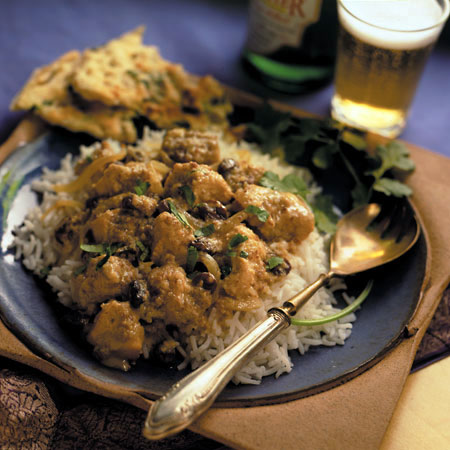 California Raisin-Almond Chicken Curry (Murghi Kismis Salan)
Spicy curry, raisins and almonds add Asian flavors to chicken breasts.
INGREDIENTS
2 pounds

boneless, skinless chicken breasts

2

cups

California raisins, divided

2

medium thinly sliced yellow onions, divided

1

small coarsely chopped green bell pepper

2

tablespoons

coarsely chopped fresh gingerroot

5

cloves garlic

2

tablespoons

clarified butter or vegetable oil, divided

1/2 cup

heavy whipping cream

1/4 cup

sour cream

1/2 cup

ground almonds

4

green cardamon pods

2 to 3 fresh or dried bay leaves

1

cup

water

Salt; to taste

2

tablespoons

finely chopped fresh cilantro
PROCEDURE
Trim and cut chicken into 1-inch pieces. Place in heavy 3-quart saucepan; set aside. In food processor, place 1 cup California raisins, half the onions, pepper, gingerroot and garlic; purée until smooth. Add to chicken. Stir in 1 tablespoon butter, heavy cream, sour cream, almonds, cardamom, bay leaves and water. Bring to boil over medium-high heat. Reduce heat to low. Cover; cook 30 minutes. Add remaining California raisins; cover; cook 15 to 20 minutes more.
In 10-inch skillet, heat remaining butter over medium-high heat; add remaining onions. Stir-fry 3 to 4 minutes or until golden brown. Combine onions and salt with curry; cook 2 to 4 minutes more to blend flavors. Discard cardamom pods and bay leaves; garnish with cilantro.
Chef's Note: Curries are sauce-based preparations often served with steamed rice and flatbreads.
Nutrition Facts Per Serving
Calories 390 (33% from fat); Total Fat 14g (sat 5g, mono 6g, poly 2g, trans 0g ); Cholesterol 90mg; Protein 29g; Carbohydrate 36g; (Dietary Fiber 3g; Sugars 31g; ); Iron 2mg; Sodium 95mg; Calcium 64mg; Potassium 720mg
This recipe is found in the following categories:
World Flavors
Special Diet
(No Ratings Yet)
Loading...
Comments are closed.