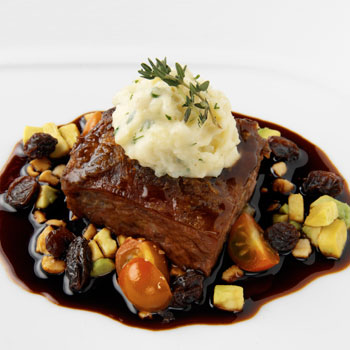 Braised Brazilian Beef Shanks with Peanuts (Con Maní)
Submitted by:
Norman Van Aken
Garlic-flavored beef shanks stewed with carrots and onion, topped with peanuts and Zante currants.
INGREDIENTS
1/4 cup

flour

1

teaspoon

kosher salt

1

teaspoon

freshly ground black pepper

4

beef shanks, cut 1 1/4 inches thick (about 4 pounds)

1/2 cup

bacon, cut into small pieces (2 1/2 ounces)

1/4 cup

canola oil

1

tablespoon

butter

5

garlic cloves, peeled and finely sliced

1

large red onion, chopped medium

2

carrots, peeled and diced medium

3/4 cup

Spanish sherry wine vinegar

1/2 tablespoon

minced orange peel

2

tablespoons

minced fresh gingerroot

2

tablespoons

tomato paste

1

teaspoon

freshly toasted and ground cumin

1

tablespoon

crushed red pepper

1 1/2 quarts

beef stock

1

cup

unsweetened coconut milk

1

tomato, peeled and cut into 8 wedges

1

tablespoon

extra virgin olive oil

Kosher salt and freshly cracked black pepper, to taste

1

cup

raw, unsalted peanuts, roasted, roughly chopped and divided

1

ripe avocado, diced

1/2 cup

California Zante currants, plumped
Basic White Rice
2

cups

water

1/2 teaspoon

kosher salt

1

cup

long grain white rice

1

tablespoon

unsalted butter (optional)
PROCEDURE
Preheat the oven to 325ºF. Have all ingredients ready. Mix the flour, salt and pepper together in a shallow bowl. Dredge each piece of beef shank in the flour and shake off excess. Set aside.
In a very large roasting pan over medium-high heat, cook bacon in canola oil. When bacon is almost cooked, move it to the side and sear the shanks on both sides. Remove shanks to a platter and reserve. Add butter to pan and melt. Then, add garlic, onion and carrots; season with salt and pepper and stir to coat. Cook, stirring occasionally, until vegetables are caramelized, about 10 to 15 minutes.
Deglaze pan with vinegar and simmer for 1 to 1 1/2 minutes, stirring until almost all liquid is gone. Add orange peel, gingerroot, tomato paste, cumin and red pepper. Stir in stock and coconut milk; heat to simmer. Remove from heat; cover and put in preheated oven at 325°F. Braise until shanks are tender and the meat is shrinking away from the bone, 2 to 3 hours.
Remove shanks to a casserole and cover loosely with foil to keep warm. Strain the braising liquid into a medium saucepan and reduce over medium-high heat until thick and about 3 cups remain or until liquid is thick enough to coat back of a spoon.
Arrange tomato wedges on top of shanks; drizzle with olive oil; salt and pepper to taste and pour reduced liquid over all. Sprinkle 2/3 cup peanuts on top and return to oven, uncovered, until the tomatoes wilt, about 20 minutes.
Basic White Rice
Measure rice into a bowl of cool water and swish around about a dozen times. Drain and repeat once more.
In medium saucepan, bring 2 cups of water to a boil over high heat. Add salt, rice and butter; stir. Cover; reduce heat to low and cook for 20 minutes or until the rice has absorbed most of the water and is tender. Remove from heat and allow to stand, covered, for 5 minutes or until all remaining liquid is absorbed.
To serve: Arrange shanks on warm plates with rice; spoon sauce over. Garnish with avocado, currants and remaining peanuts.
Nutrition Facts Per Serving
Calories 760 (58% from fat); Total Fat 49g (sat 13g, mono 24g, poly 7g, trans 0g ); Cholesterol 110mg; Protein 58g; Carbohydrate 21g; (Dietary Fiber 5g; Sugars 10g; ); Iron 7mg; Sodium 1090mg; Calcium 107mg; Potassium 1517mg
This recipe is found in the following categories:
World Flavors
(No Ratings Yet)
Loading...
Comment on the Recipe
Comments may be moderated. If you don't see your comment, please be patient. It may be posted soon. Do not post your comment a second time. Thank you.