A NUTRITIONAL POWERHOUSE
California Raisins are made for healthy eating and snacking.  Dried in the warm California sunshine, they come by their sweetness naturally.  This little fruit has many benefits that help to maintain a healthy lifestyle.
California Raisins:
are all natural¹
are fat and cholesterol free¹
are naturally low in sodium¹
are naturally sweet, no-added sugar¹
contain 9% of the DV for potassium¹
contain 9% of the DV for fiber – a desirable and essential nutrient³
are a source of concentrated nutrients¹
are known to contain phytonutrients that suppress the growth of oral bacteria associated with cavities and gum disease²
The ingredient list says it all:  Raisins.
¹ USDA National Nutrient Database for Standard Reference, Release 25.
² Rivero-Cruz, j.F., Zhu, M., Kinghorn, A.,D., Wu, C. D. (2008). antimicrobial Constituents of Thompson Seedless Raisins (Vitis vinifer) Against Selected Oral Pathogens. Phytochemistry Letters, 1(3): 151-4.
³Camire, M. E., & Dougherty, M.P (2003). Raisin dietary fiber composition and in vitro bile acid binding. Journal of agricultural and food chemistry, 51 (3), 834-837.
The average person eats far less fruit than is recommended by the U.S. Dietary Guidelines for Americans. A portable, readily available fruit, such as California Raisins, is ideal to help fill this gap.  Curious about the research that shows why California Raisins are a Wise Choice? Click here to learn more.
Need more information on fruit and vegetables?  Click on "more matters."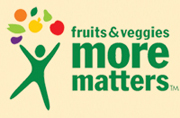 According to nutrition experts, eating 8 or more and as many as 13 fruits and vegetables a day can help reduce the risk of developing certain types of cancer, heart disease, stroke, obesity, diabetes and birth defects.
THE 2015 Dietary Guidelines
The Dietary Guidelines for Americans are jointly issued and updated every 5 years by the Department of Agriculture (USDA) and the Department of Health and Human Services (HHS). They provide authoritative advice for Americans ages 2 and older about consuming fewer calories, making informed food choices, and being physically active to attain and maintain a healthy weight, reduce risk of chronic disease, and promote overall health.
What is a "Healthy Diet"?
The Dietary Guidelines for Americans describe a healthy diet as one that:
• Emphasizes fruits, vegetables, whole grains, and fat-free or low-fat milk and milk products;
• Includes lean meats, poultry, fish, beans, eggs, and nuts; and
• Is low in saturated fats, trans fats, cholesterol, salt (sodium), and added sugars.
The recommendations in the Dietary Guidelines and in MyPlate are for the general public over 2 years of age. MyPlate is not a therapeutic diet for any specific health condition. Individuals with a chronic health condition should consult with a health care provider to determine what dietary pattern is appropriate for them.
Click here

MyPlate helps individuals use the Dietary Guidelines to:
• Make smart choices from every food group.
• Find balance between food and physical activity.
• Get the most nutrition out of calories.
• Stay within daily calorie needs.
What Food is in the Fruit Group? You guessed it, California Raisins!