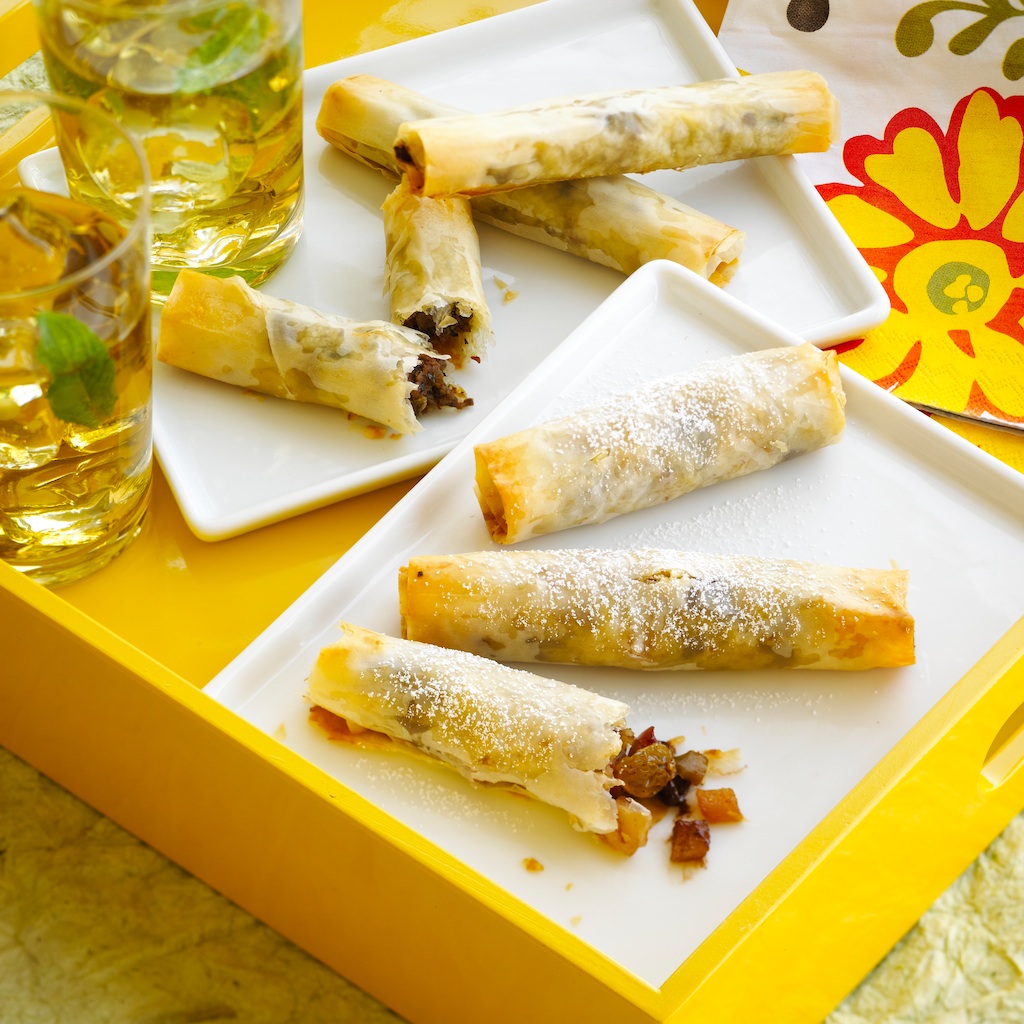 Wini Minis Kefta
Submitted by:
Rafih Benjelloun
Little nibblers to start the party!
Yields 50 Wini Minis
Details
Serving Size: 2 Wini Minis
INGREDIENTS
1

pound

lean ground beef

1

large onion, finely diced

1/2 cup

California raisins

3

stems parsley, finely chopped

3

stems cilantro, finely chopped

2

stems fresh mint, finely chopped

Pinch ground nutmeg

1/2 teaspoon

ground black pepper

1/2 teaspoon

ground cumin

Chile flakes; to taste

Salt; to taste

15

sheets (

14

x9-inches) phyllo dough
1/2 cup

melted butter

egg yolk

Harissa sauce; for dipping
PROCEDURE
Preheat oven to 325°F. Mix meat with onion, raisins, herbs and spices.
To assemble, thaw frozen phyllo in refrigerator overnight and/or allow to stand at room temperature for about 2 hours. Remove from package and, carefully unroll sheets onto a smooth, dry surface. Cover immediately with plastic wrap and then, with a barely dampened kitchen towel. Remove one sheet at a time and place on a flat surface. Working from edges toward the center, lightly brush with melted butter and cut crosswise and lenghtwise into 4 equal pieces. Fold each quarter in half and place 1 tablespoon meat mixture in center of one edge, not the folded one. Brush remaining dough surface with egg yolk, thinned with water if needed, and roll up like a cigar. Seal ends securely. Repeat until all phyllo and filling are used.
Arrange Wini Minis 2 inches apart on baking sheet and bake for 15 to 20 minutes at 325°F until golden. Serve hot with harissa sauce for dipping.
Nutrition Facts Per Serving
Calories 110 (50% from fat); Total Fat 6g (sat 3g, mono 2g, poly 0g, trans 0g ); Cholesterol 15mg; Protein 5g; Carbohydrate 9g; (Dietary Fiber <1g; Sugars 2g; ); Iron 1mg; Sodium 95mg; Calcium 8mg; Potassium 101mg
This recipe is found in the following categories:
(No Ratings Yet)
Loading...
Comment on the Recipe
Comments may be moderated. If you don't see your comment, please be patient. It may be posted soon. Do not post your comment a second time. Thank you.