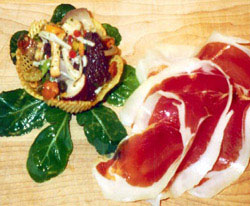 Wild Mushroom Raisin Salad with Serrano Ham
Submitted by:
Kim Canteenwalla
A collection of mushrooms, California raisins and sweet peppers fill potato baskets to serve with Serrano ham and arugula.
INGREDIENTS
1/4 cup

white distilled vinegar

1/4 cup

bottled water

1

sprig fresh baby leaf rosemary

1

sprig fresh baby leaf thyme

1 1/2 cups

porcini mushrooms

1 1/2 cups

morel mushrooms

1 1/2 cups

oyster mushrooms

1 1/2 cups

chanterelle mushrooms

1 1/2 cups

domestic mushrooms

1/2 cup

enoki mushrooms

1/2 cup

California golden raisins

1/2 cup

California natural raisins

3/4 cup

olive oil

1

yellow pepper, peeled and diced

1

green pepper, peeled and diced

1

red pepper, peeled and diced

3/4 cup

pistachios, toasted

Italian parsley, chopped

4

scallions

Fleur de sel and freshly ground white pepper; to taste

1 bay leaf

1 rosemary sprig

Vegetable oil; for deep-frying

3

large Yukon potatoes, washed and peeled

18

paper thin slices Serrano ham

1

teaspoon

olive oil

48

piece

arugula, washed and patted dry
PROCEDURE
In large saucepan, combine vinegar and water, bay leaf and thyme; heat to a boil. Remove thyme and rosemary sprigs, leaving bay leaf. Wash mushrooms, as needed, and using a slotted spoon place only one variety of mushroom in water mixture at a time. Cook just until soft; times will vary. Do not overcook. Drain; pat dry and set aside. Add raisins to same liquid and cook for 2 minutes. Drain and set aside with mushrooms.
Measure olive oil into square glass cake pan and set aside. In small saucepan, heat 2 cups water to boil and blanch diced peppers about 1 minute. Drain and pat dry; add to pan with olive, along with toasted pistachios and chopped parsley. Mix well. Stir in green onions, fleur de sel, and mushrooms; mix well. Place one bay leaf and rosemary sprig on top, and arrange 2 sheets of plastic wrap against top of mixture. Then, wrap pan in plastic wrap. Chill for at least 3 hours.
Heat vegetable oil in saucepot. With mandolin, slice potatoes gaufrette style (basket weave) and soak in cold water. When ready to fry, drain and pat potato slices dry with paper towel. Cover a microwavable salad plate with plastic wrap. Arrange 5 potato slices on plate, overlapping to form flower. Microwave flower for 2 to 3 minutes on high. Remove from plate and place between two same-size metal ladles, pressing firmly to form a basket; deep fry in hot oil until golden brown. Drain on paper towel. Repeat to make 6 potato baskets.
To Assemble
Drain chilled salad; divide and spoon into potato baskets. Arrange on individual serving plates with serrano ham slices in horse shoe, along side. Serve cold.
In small bowl, toss 1 teaspoon olive oil with arugula. Arrange 7 pieces of arugula around basket.
Nutrition Facts Per Serving
Calories 680 (52% from fat); Total Fat 42g (sat 6g, mono 28g, poly 4g, trans 0g ); Cholesterol 40mg; Protein 31g; Carbohydrate 56g; (Dietary Fiber 10g; Sugars 22g; ); Iron 5mg; Sodium 1280mg; Calcium 95mg; Potassium 1193mg
This recipe is found in the following categories:
(No Ratings Yet)
Loading...
Comment on the Recipe
Comments may be moderated. If you don't see your comment, please be patient. It may be posted soon. Do not post your comment a second time. Thank you.