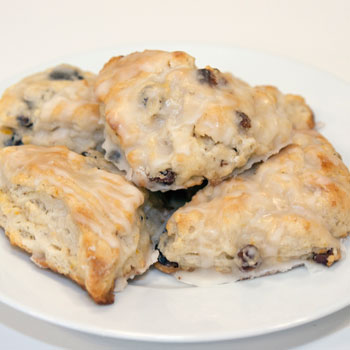 Sweet Spiced Scones with Jack Daniel's Soaked Raisins
By Schcondala Parsons, First Place Celebrating Scones with Pastry Chicago
Reminds you of that Christmas fruitcake.
INGREDIENTS
3/4 cup

Zante currants or California raisins, chopped

2 tablespoons

Jack Daniel's Tennessee Honey whiskey

1/2 cup

cold unsalted butter, cut in small cubes

2 tablespoons

granulated sugar

6 tablespoons

buttermilk

1/2 cup

sour cream

1/2 teaspoon

salt

3/4 teaspoon

vanilla extract

2 cups

pastry flour

1 tablespoon

baking powder

1/2 teaspoon

orange zest

1-1/4

teaspoons mulling spice*
Icing
2 cups

confectioners' sugar

2-2/3

tablespoons Jack Daniel's Tennessee Honey whiskey
PROCEDURE
In small bowl, combine raisins and whiskey; set aside to plump raisins, overnight. Freeze butter overnight. In mixing bowl, whisk sugar, buttermilk, sour cream, salt, and vanilla together until smooth; set aside to chill in refrigerator.
Preheat oven to 375°F. Measure flour, baking powder, orange zest, and mulling spice into bowl of electric mixer or food processor with steel blade and mix until combined. Add butter, and process on low speed until mixture resembles coarse meal. Add chilled buttermilk mixture, and mix just to combine. Stir in raisins, and mix together well. Turn into 8-inch parchment-lined cake pan and flatten until even. Chill 2 hours. Remove from pan and discard parchment paper. Using pizza cutter or well oiled knife, cut dough into 12 wedges. Arrange well separated on lightly greased baking sheet and bake at 375°F until light golden brown, 20 to 25 minutes. Cool and then drizzle with powdered sugar mixed with enough whisky to make thin icing.
Notes:
1. For best results, use these products from Whole Foods Markets:
Plugrá European-style butter
Nielsen-Massey vanilla extract
King Arthur pastry flour
The Spice House ground spices
2. For mulling spice, combine:
1-3/4 teaspoons ground cinnamon
1/4 teaspoon ground cloves
1/4 teaspoon ground allspice
1/4 teaspoon ground cardamom
Makes 2-1/2 teaspoons; recipe uses only 1-1/4 teaspoons
Nutrition Facts Per Serving
Calories 280 (32% from fat); Total Fat 10g (sat 6g, mono 3g, poly 0g, trans 0g ); Cholesterol 25mg; Protein 3g; Carbohydrate 43g; (Dietary Fiber 3g; Sugars 25g; ); Iron 1mg; Sodium 270mg; Calcium 56mg; Potassium 194mg
This recipe is found in the following categories:
(No Ratings Yet)
Loading...
Comment on the Recipe
Comments may be moderated. If you don't see your comment, please be patient. It may be posted soon. Do not post your comment a second time. Thank you.