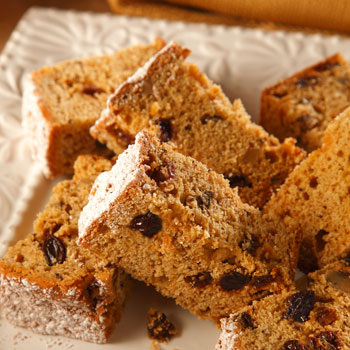 Sweet Potato-Raisin Bread Squares
Yields 50 squares
Details
Serving Size: (1/8 cup vegetables/fruits + 1 grains/breads)
INGREDIENTS
1/2 No.

10

can canned sweet potatoes, drained
6 1/4 cups

all-purpose flour

2 1/2 cups

sugar

1/4 cup

instant nonfat dry milk*

2

tablespoons

baking powder

1

teaspoon

baking soda

1

teaspoon

salt

1

teaspoon

ground allspice

1

teaspoon

ground nutmeg

1

teaspoon

ground cloves

4

whole eggs

1 1/4 cups

water

1

cup

shortening

3/4 cup

California raisins

1 1/2 cups

chopped walnuts
PROCEDURE
Posted
August 11, 2011 by Melinda
Servings
50
Ingredients
1/2 No.

10

can canned sweet potatoes, drained
6 1/4 cups

all-purpose flour

2 1/2 cups

sugar

1/4 cup

instant nonfat dry milk*

2

tablespoons

baking powder

1

teaspoon

baking soda

1

teaspoon

salt

1

teaspoon

ground allspice

1

teaspoon

ground nutmeg

1

teaspoon

ground cloves

4

whole eggs

1 1/4 cups

water

1

cup

shortening

3/4 cup

California raisins

1 1/2 cups

chopped walnuts
Directions
1. Mash drained sweet potatoes. Set aside.
2. Blend flour, sugar, dry milk, baking powder, baking soda, salt, allspice, nutmeg and cloves for 1 minute in mixer bowl on low speed.
3. Combined eggs and water. Add shortening and liquid mixture to dry ingredients. Blend for 1 minute on low speed. Beat for additional 1 minute on medium speed.
4. Add mashed sweet potatoes, raisins and nuts. Blend for 30 seconds on low speed. Beat for 1 minute on medium speed. DO NOT OVER MIX. Batter will be lumpy.
5. Pour batter into lightly greased steamtable pan (12 x 20 x 2 1/2-inch).
6. Bake in Conventioanl oven – 350°F for 55 to 65 minutes or Convection oven – 300°F for 35 to 45 minutes.
7. Cool. Cut 5 X 10 (50 pieces).
Notes:
1. Substitute 2 tablespoons noninstant nonfat dry milk for instant nonfat dry milk if desired.
2. For loaf pan, pour 2 pounds 4 ounces (1-1/2 quarts) batter into each of 3 lighlty greased loaf pans (4 x 10 x 4-inch). Bake in Conventional oven – 350°F for 1 1/4 to 1 1/2 hours or Convection oven – 300°F for 40 to 50 minutes. Remove from pans. Cool completely. Cut each loaf into 17 slices about 1/2-inch thick.
Nutrition Facts Per Serving
Calories 190 (31% from fat); Total Fat 7g (sat 1.5g, mono 2.5g, poly 3g, trans 0.5g ); Cholesterol 15mg; Protein 4g; Carbohydrate 30g; (Dietary Fiber 1g; Sugars 16g; ); Iron 1mg; Sodium 125mg; Calcium 35mg; Potassium 174mg
This recipe is found in the following categories:
(No Ratings Yet)
Loading...
Comment on the Recipe
Comments may be moderated. If you don't see your comment, please be patient. It may be posted soon. Do not post your comment a second time. Thank you.