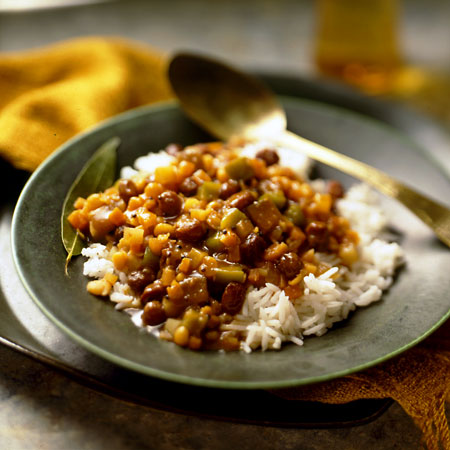 Spicy Stewed Vegetables with California Raisins (Sambhar)
Carrots, eggplant, potatoes and peas make a hearty East Indian stew.
INGREDIENTS
3/4 cup

yellow split peas

4

cups

water

6

tablespoons

clarified butter or vegetable oil, divided

2

cups

eggplant, cut into 1/4-inch pieces

1 1/2 cups

California raisins

1

cup

carrots, cut into 1/8-inch pieces

1

cup

green bell peppers, cut into 1/4-inch cubes

1/2 cup

peeled potatoes, cut into 1/8-inch cubes

1/4 cup

yellow onions, cut into 1/8-inch pieces

1

tablespoon

tamarind paste

1/2 cup

hot water

1 1/2 teaspoons

salt

1

teaspoon

black mustard seed

4

to 6 fresh kari leaves

1/4 teaspoon

asafetida powder

2

tablespoons

sambhar powder
PROCEDURE
In a 3-quart saucepan, bring peas and water to a boil over medium-high heat; reduce heat to low, and cook for 15 minutes.
Meanwhile, in deep 12-inch skillet, heat 4 tablespoons butter over medium-high heat; add eggplant, raisins, carrots, peppers, potatoes and onions. Stir-fry 6 to 7 minutes or until vegetables are partially cooked; add to cooked peas.
Dissolve tamarind paste in hot water. Stir paste, sambhar powder and salt into stew; set aside.
In 6-inch skillet, heat remaining 2 tablespoons butter over medium-high heat; add mustard seed; cover. When seeds pop, immediately add kari leaves and asafetida powder. Pour oil mixture into stew. Partially cover; cook 8 to 10 minutes more or until done.
Chef Notes:
1. Sambhar powder is a combination of roasted red chiles, spices and lentils used primarily in southern Indian cooking to make a signature stew-like dish called sambhar. This blend is widely available in Indian grocery stores. If unavailable, substitute a commercial blend of curry powder which is not traditionally Indian and is less potent.
2. Fresh kari leaves are available in specialty grocery stores. Omit if unavailable.
3. Asafetida is a resin available in lump or powder form in natural food stores and Indian grocery stores. Substitute garlic powder for a less complex alternative.
4. Tamarind paste is a highly acidic souring agent used in southern Indian cooking. If unavailable, substitue twice the amount of freshly squeezed lime or lemon juice.
5. Sambhar is often served with steamed white rice, preferably basmati.
Nutrition Facts Per Serving
Calories 190 (31% from fat); Total Fat 7g (sat 4g, mono 2g, poly 0g, trans 0g ); Cholesterol 15mg; Protein 4g; Carbohydrate 29g; (Dietary Fiber 2g; Sugars 17g; ); Iron 1mg; Sodium 300mg; Calcium 17mg; Potassium 279mg
This recipe is found in the following categories:
(No Ratings Yet)
Loading...
Comment on the Recipe
Comments may be moderated. If you don't see your comment, please be patient. It may be posted soon. Do not post your comment a second time. Thank you.