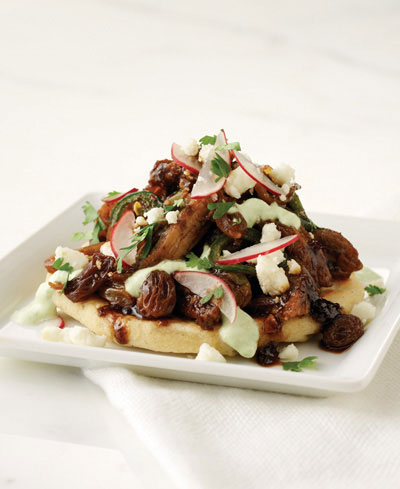 Spicy Pork Carnitas on Soft Corn Sopes with California Raisins, Red Raisin Syrup and Poblano Crèma
Little bites topped with spicy pork, raisin drizzle and poblano crema.
Yields 24 2-inch rounds
Details
INGREDIENTS
Sopes
1

cup

masa harina

2

tablespoons

shortening

1/4 cup

all-purpose flour

1/2 teaspoon

salt

1/2 teaspoon

sugar

1/2 teaspoon

baking powder
Pork Carnitas
Vegetable oil or olive oil

1

cup

roasted pork, shredded (about 6 ounces)

1

tablespoon

taco seasoning

1

tablespoon

ground Mexican cumin

3

tablespoons

California golden raisins

1/2 cup

thin sliced onion

1/4 cup

sliced jalapeño peppers*

1/4 cup

apple cider vinegar

2

tablespoons

California raisin juice concentrate*

Salt and pepper flakes; to taste
Red Raisin Drizzle
1/4 cup

California raisin juice concentrate*

1

tablespoon

distilled white vinegar

1

teaspoon

crushed red pepper
Poblano Crèma
2

tablespoons

chopped poblano chiles

1

tablespoon

chopped fresh cilantro

1

cup

Sour cream

1

tablespoon

Lime zest

Water; as needed

Salt; to taste
Garnish
1/4 cup

sliced radishes

1

tablespoon

chopped cilantro and parsley, mixed

1/4 cup

Queso Fresco, crumbled
PROCEDURE
Sopes
Combine all ingredients in bowl; mix thoroughly by hand until soft ball forms. Let rest 15 minutes. Divide into equal portions about the size of 1/2 a golf ball. Flatten dough slightly in palm to 1/4-inch thick and just large enough to fit inside palm of hand.
Arrange several pieces on hot, lightly greased or ungreased nonstick pan; press to flatten, again. Cook until golden brown turn and brown other side. When cooked press centers down so sopes cup a little. Set aside on wax paper. Serve warm. May also be refrigerated and reheated in oven.
Pork Carnitas
In heavy pan, heat oil over high heat. Fry pork, until it begins to crisp. Add taco seasoning and cumin; continue to fry several seconds more. Stir in raisins; cook until plump. When meat is thoroughly coated and evenly crisp, add onion and jalapeño. Deglaze pan with vinegar as needed; add raisin juice concentrate and mix thoroughly. Adjust seasoning with salt and red pepper flakes.
Red Raisin Drizzle
Gently mix ingredients together in small bowl.
Poblano Crèma
Combine ingredients in blender and process on high; adding water if needed, to thin. Add salt, to taste.
To Serve
Pile pork mixture onto warm sopes. Drizzle with Red Raisin Drizzle and Poblano Crèma. Top with sliced radishes, chopped herbs and cheese crumbles.
Chef Notes: If unable to find masa harina, substitute 1 cup instant cornmeal mixed with 1 1/4 cups water and allow to stand until softened.
Select one jalapeño with seeds or two with seeds removed, depending on heat desired for carnitas. Be sure to wear rubber gloves while working with these and other hot peppers.
For home cooks, substitute light molasses for California raisin juice concentrate.  Commercially prepared California raisin juice concentrate is available from foodservice and industrial suppliers.
Nutrition Facts Per Serving
Calories 90 (20% from fat); Total Fat 2g (sat 0.5g, mono 1g, poly 0.5g, trans 0g ); Cholesterol 5mg; Protein 4g; Carbohydrate 15g; (Dietary Fiber <1g; Sugars 9g; ); Iron 1mg; Sodium 75mg; Calcium 42mg; Potassium 130mg
This recipe is found in the following categories:
(No Ratings Yet)
Loading...
Comment on the Recipe
Comments may be moderated. If you don't see your comment, please be patient. It may be posted soon. Do not post your comment a second time. Thank you.