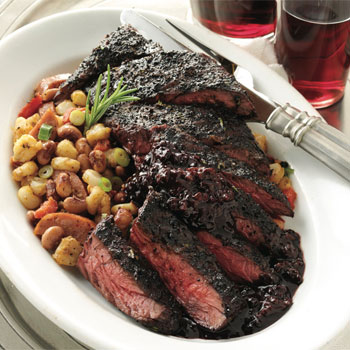 Skirt Steak Bourbon Street Style with Marchand de Raisin Sauce and Hominy, Black-eyed Pea and Andouille Sausage Pilaf
Rich raisin-mushroom sauce over bourbon glazed steak and hominy, black-eyed peas with sausage pilaf on the side.
INGREDIENTS
Marchand de Raisin Sauce (3-1/2 cups)
1

bottle (

750

ml) dry red wine, reduced to 2 cups

1

cup

veal demi-glaze

1

cup

California raisin juice concentrate*

1

ounce

clarified butter

1

tablespoon

minced shallots

1/4 cup

mushrooms, minced

1/4 cup

California raisin paste*

1/4 cup

minced dry-cure ham

Lemon juice; to taste

Cayenne pepper; to taste

1

tablespoon

softened butter
Hominy, Black-eyed Pea and Andouille Sausage Pilaf
2

quarts

canned hominy, drained and rinsed

2

fluid ounce

olive oil

Fresh ground black pepper; to taste

2

ounce

clarified butter

2

cups

andouille sausage, 1/4-inch dice

1

quart

frozen black-eyed peas, thawed and well drained

1

cup

roasted red pepper, 1/4-inch dice

Tabasco (brand) sauce; to taste

1

cup

green onions, sliced thinly

Salt and pepper; to taste
Skirt Steak
2

cups

California raisin juice concentrate*

1/2 cup

chicory coffee, ground

3/4 cup

Southern Comfort (brand) whiskey

2

tablespoons

chopped garlic

1/2 cup

chopped rosemary leaves, only

Sea salt, to taste

Coarse ground black pepper; to taste

8

skirt steaks (4 ounces each)
PROCEDURE
Combine wine reduction, veal demi glaze and raisin juice concentrate in 3-quart saucepan; simmer over medium heat until reduced by 1/3. Heat butter in 12-inch nonstick sautépan over medium-high heat; add shallot and mushrooms. Sauté over low heat, stirring constantly, until mushrooms are tender. Stir in raisin paste; add minced ham and heat through. Remove from heat and add to wine sauce. Finish sauce with lemon juice, cayenne pepper and softened butter. Keep warm until ready to serve.
Hominy, Black-eyed Pea and Andouille Sausage Pilaf
Preheat oven to 350°F. Toss hominy with olive oil and season with pepper. Spread in single layer on sheet pan and bake 10 minutes, stirring frequently until lightly toasted. Season with pepper and set aside.
In 2-gallon, thick-bottomed saucepot over medium heat, heat clarified butter with sausage and cook untill lightly browned. Add black-eyed peas and red peppers; stir over medium heat for 3 minutes. Stir in hominy and heat through. Season with Tabasco and fold in green onions. Adjust seasonings, if necessary. Keep warm.
Skirt Steak
Combine raisin juice concentrate, ground coffee, whiskey, garlic, rosemary, salt and pepper. Mix well. Brush on both sides of skirt steaks and let stand for 1 hour in refrigerator.
Heat grill to medium-high and oil surface lightly. Grill steaks about 3 minutes on each side, turning 90 degrees after 1-1/2 minutes for criss-cross markings. Brush steak with raisin sauce as it cooks. Let rest 5 minutes in a warm place; then slice thin across the grain.
To Serve
Spoon approximately 1 cup hominy mixture in center of each of 8 heated dinner plates. Top each with 4 ounces sliced skirt steak; drizzle 1-1/2 ounces Marchand de Raisin Sauce over all.
Note: Commercially prepared California raisin paste and raisin juice concentrate are available from foodservice and industrial suppliers. To make your own raisin paste, grind or process in a food processor whole California natural raisins (1/2 cup) equal to twice the amount of raisin paste required (1/4 cup) until very finely chopped and smooth.
Nutrition Facts Per Serving
Calories 640 (30% from fat); Total Fat 23g (sat 9g, mono 10g, poly 2g, trans 0g ); Cholesterol 60mg; Protein 25g; Carbohydrate 79g; (Dietary Fiber 6g; Sugars 48g; ); Iron 6mg; Sodium 1050mg; Calcium 80mg; Potassium 686mg
This recipe is found in the following categories:
(No Ratings Yet)
Loading...
Comment on the Recipe
Comments may be moderated. If you don't see your comment, please be patient. It may be posted soon. Do not post your comment a second time. Thank you.