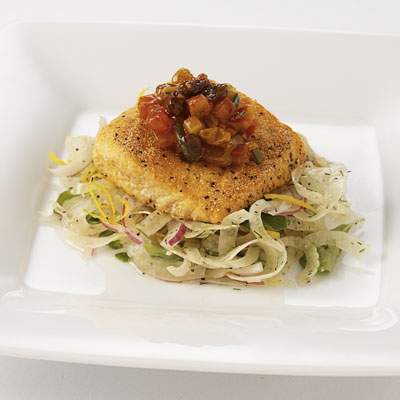 Semolina Crusted Alaskan Salmon, California Raisin Ratatouille and Wilted Spinach
Submitted by:
Michael Jackson
High protein semolina and salmon served with raisin and ratatouille for a completely nutritious meal.
INGREDIENTS
2 1/2 pounds Alaskan salmon, cut into

12

medallions (3 ounces each)

1

cup

semolina flour

Salt and pepper

3

ounce

(6 tablespoons) extra virgin olive oil
Raisin Ratatouille
4

ounce

fresh spinach leaves

1

cup

diced zucchini

1

cup

diced tomatoes

1/2 cup

white wine

1/3 cup tomato juice

1/2 cup

California natural raisins

1/2 cup

California golden raisins

1

teaspoon

minced fresh basil

1

ounce

(2 tablespoons) extra virgin olive oil

6

slice

baby Swiss cheese

1/3 cup toasted pine nuts
PROCEDURE
Preheat oven to 400°F. Lightly season salmon with salt and pepper. Dredge in semolina flour. Heat dry skillet almost to smoking; add 3 ounces olive oil and quickly sear salmon, 20 to 30 seconds on each side. Place in oven at 400°F and cook 4 to 6 minutes or until done. Remove from skillet; set aside.
Reheat same skillet and cook spinach quickly for only 15 to 20 seconds; reserve. In same hot skillet, heat remaining oil; add zucchini and sauté 2 minutes. Stir in tomatoes, wine, tomato juice and raisins; simmer 5 minutes. Remove from heat and add basil.
To serve, ladle 4 ounces of the Raisin Ratatouille onto each of 6 individual plates. Divide spinach into 6 equal portions and place one at center of each plate. Arrange 1 piece of salmon on top of spinach and place a half slice of Swiss cheese on top of fish. Place another piece of salmon on top of cheese and top with the remaining slices of Swiss cheese. Sprinkle pine nuts over all.
Nutrition Facts Per Serving
Calories 720 (43% from fat); Total Fat 34g (sat 6g, mono 20g, poly 7g, trans 0g ); Cholesterol 85mg; Protein 51g; Carbohydrate 47g; (Dietary Fiber 3g; Sugars 22g; ); Iron 5mg; Sodium 250mg; Calcium 187mg; Potassium 1344mg
This recipe is found in the following categories:
(No Ratings Yet)
Loading...
Comment on the Recipe
Comments may be moderated. If you don't see your comment, please be patient. It may be posted soon. Do not post your comment a second time. Thank you.