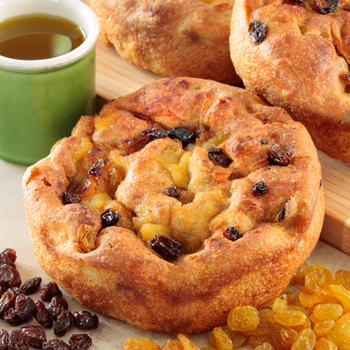 Schiacciata con Zibibbo with Blood Orange Raisins
Submitted by:
Craig Ponsford - Ponsford's Place - San Rafael, CA
Schiacciata (SKI-A-CHA-TA) means crushed or flattened, and Zibibbo refers to a specific grape variety, popular in Italy for making into raisins or wine.
FORMULA
Biga
Final Dough
Total Formula
Metric/kg
Bakers %
Metric/kg
Metric/kg
Bakers %
Hard White Winter Wheat Flour
0.6618
100.00
1.434
1.846
95.00
Rye Flour, Fine
0.110
0.791
5.00
Water
70.00
1.081
1.978
70.00
Butter
0.044
0.053
2.00
Eggs
0.044
0.013
2.00
Blood Orange Olive Oil
0.221
0.079
10.00
Applesauce
0.221
0.105
10.00
Instant Yeast
 0.01
0.011
0.079
0.50
Anise seeds
0.010
0.396
0.50
Salt
0.044
0.659
2.00
Maceration: Blood Orange Olive Oil
15.00
Mixed Raisins
1.654
60.00
Biga
1.125
Totals
170.01
6.000
6.000
272.00
PROCEDURE
24 hours in advance, macerate raisins in blood orange agumato*.
Toast and grind anise seeds.
12 hours before final mixing, mix the sponge ingredients until a cohesive dough is formed. Move to a covered container and let rise, for 12 hours at 75°F.
Final dough
Break biga into small pieces and mix with flour, salt, yeast, water and raisin juice concentrate in a spiral mixer on low for 15 minutes to get an improved mix.
Slowly drizzle olive oil and mix over a 5 minute period, on low speed until absorbed.
Flake in soft butter over 1 minute more, on low speed until it is absorbed.
Add raisins and mix to disperse evenly, reserving 50 g per 300 g of dough for topping.
Shaping and proofing

Let dough ferment for two hours in a covered container with 2 folds at 40-minute intervals.
Turn out dough after the second hour and divide into 300 g or 3 kg (1/2 sheets) pieces, and gather loosely into a ball.
Set in generously oiled 6″ round cake pans flipping once to coat well (for the 1/2 sheet, oil the top well).
Dimple heavily with fingers.
Proof for 45 minutes, top with 50 g each of raisins and applesauce and dimple again (for 1/2 sheet, 500 g of each).
Proof for 15 minutes more.
Baking
Bake at 350° F on low convection for 25 minutes.
De-pan and  cool on rack.
* Any citrus infused olive oil will do. Or, using water and try accenting with a dash of muscato wine, zest or Grand Marnier.

This recipe is found in the following categories:
(No Ratings Yet)
Loading...
Comment on the Recipe
Comments may be moderated. If you don't see your comment, please be patient. It may be posted soon. Do not post your comment a second time. Thank you.