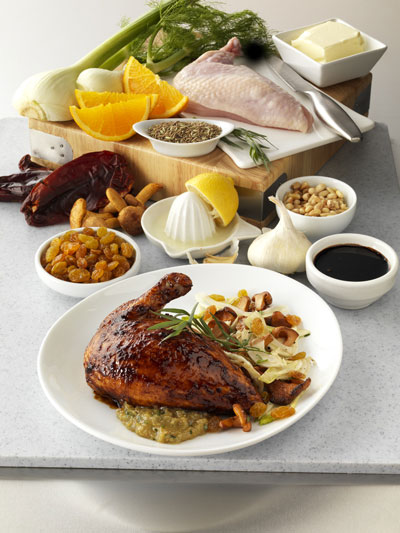 Roasted Quail with Raisin-Pine Nut Jam and Shaved Fennel, Golden Raisin and Chanterelle Salad
Submitted by:
Robert Del Grande
Guajillo chiles spice up a tangy grill mop while a raisin salad and jam take the edge off.
INGREDIENTS
Raisin Grill Mop (makes 4 cups)
2

cups

California raisin juice concentrate*

2 fresh oranges, peeled and cut into eight pieces each

1

ounce

guajillo chiles, stems and seeds removed

1

ounce (about

10

) garlic cloves, peeled
Raisin-Pine Nut Jam (makes 2 cups)
4

ounce

(3/4 cup) California golden raisins

4

ounce

(1 1/4 cups) pine nuts, lightly toasted

2 cloves garlic, roasted or fried

1 1/2 teaspoons

fennel seeds, toasted and minced very fine

2

tablespoons

fresh tarragon leaves

3

tablespoons

fresh lemon juice

3

tablespoons

water

3

tablespoons

extra virgin olive oil

1/2 teaspoon

salt

1/4 teaspoon

black pepper
Shaved Fennel Salad (makes 1-1/4 cups)
1/4 cup

California golden raisins

1 fennel bulb (about 9 ounces)

4

ounce

fresh chanterelles

1

tablespoon

fresh tarragon leaves

1/2 teaspoon

salt

1/4 teaspoon

black pepper

butter

6 quail, semi-boneless with wing tips removed at second joint

Extra virgin olive or lemon oil; for garnish

Tarragon sprigs; for garnish
PROCEDURE
Raisin Grill Mop
In saucepot, combine all ingredients. Heat to boil and simmer for about 30 minutes or until orange segments are cooked through. Cool. Turn into blender and purée until smooth. Add water if it is too thick. Set aside.
Raisin-Pine Nut Jam
Combine raisins, toasted pine nuts and roasted garlic; grind with meat grinder to make coarse paste. Transfer to mixing bowl and blend in remaining ingredients until fully incorporated. Adjust seasonings as necessary. Set aside.
Shaved Fennel Salad
Cover raisins with warm water and set aside to plump. Trim fennel bulb and slice very thin. Chill. Quarter chanterelles and sauté very quickly in hot butter, maintaining a firm texture. Do not overcook. Cool. Drain raisins and spread on paper towel to dry. In mixing bowl, combine fennel slices, chanterelles, raisins and remaining ingredients. Toss gently until well combined. Set aside to chill.
Quail
Split skin down back of quail. Open and lay flat. Brush skin with Raisin Grill Mop. Grill, broil or pan-sear quail just to caramelize skin, leaving breast meat slightly pink (180°F). Arrange each on individual dinner plate along with a portion of Shaved Fennel Salad. Spoon some Raisin-Pine Nut Jam over each quail. Drizzle extra virgin olive oil over Fennel Salad and garnish plate with sprigs of tarragon.
Notes:
1. Commercially prepared California raisin juice concentrate is available from foodservice and industrial suppliers.
2. Nutrition facts per serving includes 1 ounce of Raisin Grill Mop and 1 ounce Raisin-Pine Nut Jam along with quali and salad.
Nutrition Facts Per Serving
Calories 470 (41% from fat); Total Fat 22g (sat 5g, mono 9g, poly 6g, trans 0g ); Cholesterol 85mg; Protein 29g; Carbohydrate 42g; (Dietary Fiber 7g; Sugars 24g; ); Iron 9mg; Sodium 370mg; Calcium 89mg; Potassium 645mg
This recipe is found in the following categories:
(No Ratings Yet)
Loading...
Comment on the Recipe
Comments may be moderated. If you don't see your comment, please be patient. It may be posted soon. Do not post your comment a second time. Thank you.