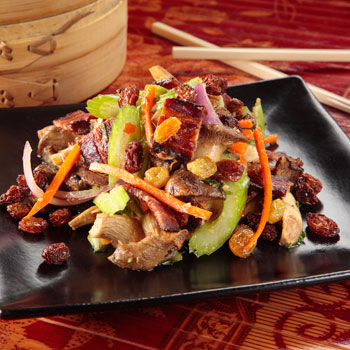 Roasted Mushroom Salad with Raisin Juice Caramelized Bacon & Chili-Lime Soy Dressing
Submitted by:
Alex Ong
Crunchy fried raisins, caramelized bacon with asian flavors, wow!
INGREDIENTS
Salad
2 cups

Oyster mushroom, sliced

2 cups

Crimini mushroom, cut 1/4

2 cups

Maitake mushroom

1 cup

Olive Oil

2 tablespoons

Ginger, minced

2 tablespoons

Garlic, minced

1 tablespoon

Kosher salt

1/4 cup

Celery, sliced thin on a bias

1/4 cup

Red onion, sliced thin

1/4 cup

Carrots, julienne

10

piece

Mint leaves, julienne
Dressing
2 tablespoons

Kikkoman soy sauce

1 tablespoon

Sambal oelek chili sauce

3-1/2 tablespoons

Lime juice

2-1/2

Sugar
Raisin Juice Caramelized Bacon
4

Bacon slices

3 tablespoons

Raisin Juice Concentrate

1 teaspoon

Chili Powder
Fried Raisins
1/2 cup

California natural raisins

1/2 cup

California golden raisins

Corn starch

Vegetable oil
PROCEDURE
Dressing
Measure all ingredients into small bowl and mix together well; set aside.
Raisin-flavored Caramelized Bacon
Preheat oven to 350ºF. Arrange bacon slices on rack on baking sheet or roasting pan, and roast at 350ºF until golden brown and crispy. Then, brush both sides with raisin juice concentrate and continue baking until caramelized. Remove from
oven and sprinkle with chili powder.  Set aside to cool.  Cut or break into small pieces.
Salad
Combine all mushrooms in roasting pan, and toss with olive oil, ginger, garlic and salt until well combined. Roast at 350ºF for 15 to 20 minutes (until mushrooms are cooked). Set aside to cool.
Fried Raisins
Meanwhile, heat vegetable oil in a pot to 350ºF. Dredge raisins in cornstarch, and deep fry in hot oil until golden brown. Drain and set aside on paper towel.
To Serve
Add sliced celery, onion, carrots, mint leaves, caramelized bacon pieces, and dressing to cooled mushrooms and toss to mix well. Divide and arrange servings on individual salad plates.  Garnish with Fried Raisins.
Note:Kikkoman (brand) soy sauce preferred.
Nutrition Facts Per Serving
Calories 1000 (71% from fat); Total Fat 81g (sat 12g, mono 56g, poly 10g, trans 0g ); Cholesterol 15mg; Protein 13g; Carbohydrate 63g; (Dietary Fiber 5g; Sugars 48g; ); Iron 3mg; Sodium 2080mg; Calcium 52mg; Potassium 876mg
This recipe is found in the following categories:
World Flavors
(No Ratings Yet)
Loading...
Comments are closed.