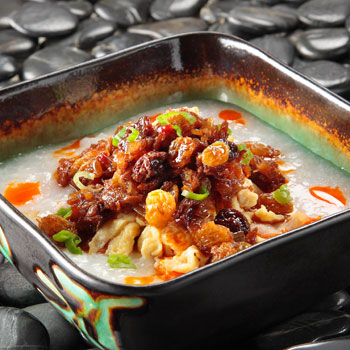 Rice Congee (Jook) with Scrambled Eggs and Raisin Crab XO Sauce
Submitted by:
Alex Ong
Featured for breakfast at the 2011 Worlds of Flavor Conference.
INGREDIENTS
Congee (Jook)
2 cups

cooked rice

8 cups

water
Raisin and Crab XO Sauce
5 cups

vegetable oil

4 cups

minced shallots

1 cup

small dried shrimp

2 cups

Korean chili paste (Gochujang)*

1 cup

California raisin juice concentrate

1/2 cup

California natural raisins, minced

1/2 cup

California golden raisins, minced

1/2 cup

granulated sugar

1 cup

sambal oelek*

1 cup

fresh blue crab meat

1 cup

brandy
Scrambled Eggs
.

25

cup

vegetable oil

2 pounds

skinless chicken breast

2 tablespoons

minced gingeroot

6

eggs

2 tablespoons

sesame oil

2 tablespoons

fish sauce

Pinch ground white pepper

1 cup

minced scallions
PROCEDURE
Congee (Jook)
Combine rice and water in large Dutch oven, and bring to boil over medium-high heat. Cover; reduce heat, and cook until creamy. Remove from heat, and keep warm.
Raisin and Crab XO Sauce
To prepare XO Sauce, add oil to large sautépan, over low heat, and sweat shallots until soft and translucent. Add small dried shrimp and chili paste; mix together well. Stir in raisin juice concentrate, minced natural and golden raisins, and sugar; mix well. Heat and simmer until shrimp are soft. Add brandy and flame. Then, add fresh crab meat; mix together well. Set aside to cool and store in airtight container in refrigerator until needed.
Scrambled Eggs and Chicken
Heat oil in large sautépan over medium heat. Slice chicken breast, diagonally into thin strips and add to sautépan along with minced gingerroot; cook, stirring occasionally. Meanwhile, in small bowl, beat eggs and stir in sesame oil, fish sauce, and pepper.
When chicken is cooked, stir egg mixture into sautépan, and cook, stirring occasionally until done. Fold in minced scallions.
To serve, portion Congee (Jook) into individual serving bowls; top with portion of Scrambled Eggs and Chicken and spoon XO Sauce over all.
Note: Gochujang and sambal oelek are available from suppliers specializing in Asian foods.
Nutrition Facts Per Serving
Calories 780 (71% from fat); Total Fat 64g (sat 5g, mono 51g, poly 5g, trans 0g ); Cholesterol 120mg; Protein 22g; Carbohydrate 28g; (Dietary Fiber <1g; Sugars 17g; ); Iron 2mg; Sodium 260mg; Calcium 54mg; Potassium 395mg
This recipe is found in the following categories:
World Flavors
(No Ratings Yet)
Loading...
Comment on the Recipe
Comments may be moderated. If you don't see your comment, please be patient. It may be posted soon. Do not post your comment a second time. Thank you.