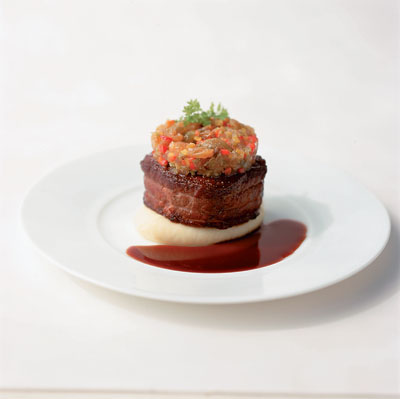 Pan Roasted Medallion of Beef Rib-Eye with Purée of Yukon Gold Potatoes and California Golden Relish
Submitted by:
Thomas Keller
An unbelievable combination of beef rib-eye with raisin relish and wine sauce
Yields Serving size 554g
Details
INGREDIENTS
California Golden Raisin Relish
2

cups

California golden raisins

3

tablespoons

sugar

1/4 cup

white wine vinegar

1/2 cup

minced red onions

3/4 cup

water

1/2 cup

yellow bell pepper, cut into 1/8-inch dice

1 1/2 tablespoons

minced cornichons
Red Wine Sauce
2

cups

red wine, such as Cabernet Sauvignon

2/3 cup

shallots, sliced 1/8-inch thick

1

cup

carrots, sliced 1/8-inch thick

1/2 cup

mushrooms, sliced 1/8-inch thick

20

sprigs Italian parsley

8

sprigs thyme

2

bay leaves

4

tablespoons

garlic, sliced 1/8-inch thick

12

black peppercorns

2

cups

veal stock
Yukon Gold Potato Purée
21

ounce

whole, unpeeled Yukon gold potatoes

1

cup

heavy cream, hot

2

sticks (8 ounces) unsalted butter

Kosher salt, to taste

White pepper, to taste

8

center cut rib-eye of beef medalloins (about 5 ounces each and 1 1/2-inches thick)

1/2 cup

canola oil

8

chervil sprigs

Kosher salt and freshly ground black pepper, to taste
PROCEDURE
California Golden Raisin Relish
Place golden raisins, sugar, vinegar, red onions, water and a sachet consisting of 1 star anise, a 1-inch piece of cinnamon stick, 6 allspice berries, 10 black peppercorns and 2 whole cloves in a 10-inch pot. Bring to a simmer over low heat. Cover and continue to cook for 10 minutes. Remove cover and reduce liquid until dry. Be careful not to burn. Remove from heat, let cool and mix in remaining ingredients.
Red Wine Sauce
In a medium saucepan, bring wine, vegetables, parsley, thyme, bay leaves and garlic to a simmer. Simmer until almost all the liquid has evaporated. Add peppercorns and veal stock and simmer for another 10 to 15 minutes, or until stock is reduced to a sauce consistency (about 1 cup). Strain through a fine-mesh strainer into a small saucepan. This sauce can be refrigerated for 2 to 3 days.
Yukon Gold Potato Purée
Put the potatoes in a large pot and cover with cold water, twice the volume of the potatoes. Bring to a slow simmer; cook until potatoes can be pierced with a knife with no resistance. While potatoes are still hot, peel and then press them through a potato ricer into a heavy-bottomed saucepan and begin to incorporate the hot cream and butter. Whisk well; season potatoes with salt and pepper. Keep warm.
Beef Medallions
Heat canola oil in a large saucepan until smoking. Season beef with salt and pepper. Working in batches, pan-roast medallions on each side until browned, about 2 minutes per side for medium rare (145°F). It is important not to crowd meat in pan or it will steam not pan roast. Remove meat from pan and reserve in a warm area.
To Serve
Heat 8 dinner plates. Evenly divide potato purée in center of each plate. Portion raisin relish evenly on top of each beef medallion. Carefully lift each medallion and position it on top of the purée. Spoon red wine sauce around each plate and garnish with a sprig of chervil.
Nutrition Facts Per Serving
Calories 1080 (64% from fat); Total Fat 78g (sat 34g, mono 31g, poly 6g, trans 0g ); Cholesterol 200mg; Protein 31g; Carbohydrate 58g; (Dietary Fiber 5g; Sugars 38g; ); Iron 6mg; Sodium 300mg; Calcium 109mg; Potassium 1315mg
This recipe is found in the following categories:
(No Ratings Yet)
Loading...
Comment on the Recipe
Comments may be moderated. If you don't see your comment, please be patient. It may be posted soon. Do not post your comment a second time. Thank you.