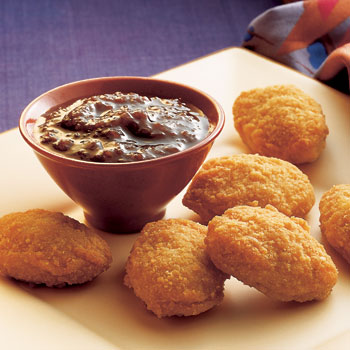 Oriental Dipping Sauce
Yields 1 gallon
Details
Serving Size: 2 tablespoons
INGREDIENTS
8

cups

California raisins

1/4 cup

water

6

cups

reduced sodium chicken broth

3

cups

brown sugar

1 1/2 cups

ketchup

1 1/2 cups

reduced sodium soy sauce

2/3 cup

cornstarch

1/2 cup

vinegar

1

tablespoon

+ 1 teaspoon ground ginger

1

teaspoon

sesame oil (optional)
PROCEDURE
Posted
August 11, 2011 by Melinda
Servings
64
Ingredients
8

cups

California raisins

1/4 cup

water

6

cups

reduced sodium chicken broth

3

cups

brown sugar

1 1/2 cups

ketchup

1 1/2 cups

reduced sodium soy sauce

2/3 cup

cornstarch

1/2 cup

vinegar

1

tablespoon

+ 1 teaspoon ground ginger

1

teaspoon

sesame oil (optional)
Directions
1. Process raisins with water until smooth paste is formed.
2. In large kettle, combine the raisin paste with chicken broth; stir until the paste is dissolved with no lumps.
3. Add remaining ingredients; mix well.
4. Simmer, stirring occasionally, about 20 minutes or until mixture thickens to consistency of a barbecue or sweet-sour sauce.
Notes: Use this recipe for any of the following: dipping sauce for chicken nuggets (pictured here), eggrolls, stir fry sauce, mixed with mayonnaise for an Oriental salad dressing, basting sauce for chicken breasts, marinade for chicken breasts, or mixed with chicken, rice and thin-sliced vegetables in a wrap.
Nutrition Facts Per Serving
Calories 120 (2% from fat); Total Fat 0g (sat 0g, mono 0g, poly 0g, trans 0g ); Cholesterol 0mg; Protein 2g; Carbohydrate 28g; (Dietary Fiber 1g; Sugars 24g; ); Iron 1mg; Sodium 420mg; Calcium 22mg; Potassium 254mg
This recipe is found in the following categories:
(No Ratings Yet)
Loading...
Comment on the Recipe
Comments may be moderated. If you don't see your comment, please be patient. It may be posted soon. Do not post your comment a second time. Thank you.